Geschichte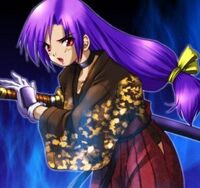 Celvice ist das erste Kind von
Kane
und seiner Frau
Shana
. Somit rechtsmässige Thronfolgerin. Sie war es die den Clan der
Hokage
aus dem Schlaf erweckte und den damaligen jungen
Dias
, als kleinen Bruder annahm. Sie ist die fähigste Kämpferin und Wissenschaftlerin unter dem Himmel von
Arch
. Sie ist das einzige weibliche Wesen auf Arch was den
Super Nod-jin
3 tragen kann. Momentan ist sie die Anführerin der Arch-Streitkräfte.
Seit dem Bürgerkrieg gilt sie als MIA( Missing in Action).
Charakter
Sieie vereint die guten Züge ihrr Eltern in sich. Sie ist Ehrgeizig, Pflichtbewusst, Aufopferungsvoll, Zielsicher und Freundlich. Sie lässt sich von niemanden ins Abseits stellen und erzielt fast immer den Sieg durch ihre übernatürliche Intelligenz.
Kampfstil
Kaze Ryu no Jutsu, Hiten Mitsurugi Ryu, Ninjutsu
Ad blocker interference detected!
Wikia is a free-to-use site that makes money from advertising. We have a modified experience for viewers using ad blockers

Wikia is not accessible if you've made further modifications. Remove the custom ad blocker rule(s) and the page will load as expected.