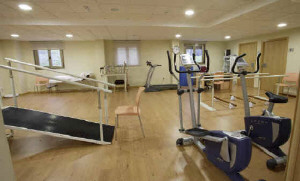 ---
A grande característica dos membros dessa fraternidade é a força e o corpo impecável, a academia é o lugar mais freqüentado do prédio. Lá os alunos mantém seu corpo saudável com vários aparelhos trouxas aceitos aqui para um bem maior. Por exemplo: esteiras, bicicletas ergométricas, pesos, entre outros.
Formada também por uma área específica para lutas e artes marciais (incluindo o uso de espadas), nessa parte, os alunos podem treinar com objetos do mundo bruxo. Como o apanhador-falante (pode ser considerado como um saco de areia que menospreza a força do seu rival com palavras) e os golpes certeiros das "shinayas" (espadas samurais herdadas através dos tempos pela fraternidade, atingem seu oponente com golpes certeiros e agressivos. Só param quando é dita a palavra chave)
Página Inicial | Estrutura | Quartel Centaur | Centaur

Ad blocker interference detected!
Wikia is a free-to-use site that makes money from advertising. We have a modified experience for viewers using ad blockers

Wikia is not accessible if you've made further modifications. Remove the custom ad blocker rule(s) and the page will load as expected.