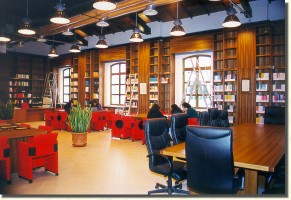 ---
A palavra chave para quem quer entrar nessa sala é SILÊNCIO.
No período diurno, os alunos podem usufruir a grande sala com mesas e cadeiras espaçosas para fazer seus trabalhos e pesquisas. Ou simplesmente ler um dos mais de mil livros contidos no acervo da sala. Por serem enfeitiçados, os livros podem ser deixados em cima das mesas, pois eles voltam flutuando exatamente ao seu lugar de origem. Portanto cuidado com as cabeças, pode acontecer de algum livro voador bater nela ao voltar para seu lugar.
A limpeza é mantida através de um espanador enfeitiçado.
Página Inicial | Estrutura | Quartel Centaur | Centaur

Ad blocker interference detected!
Wikia is a free-to-use site that makes money from advertising. We have a modified experience for viewers using ad blockers

Wikia is not accessible if you've made further modifications. Remove the custom ad blocker rule(s) and the page will load as expected.