Jimmyandfriends's movie-spoofs of "Toy Story 3"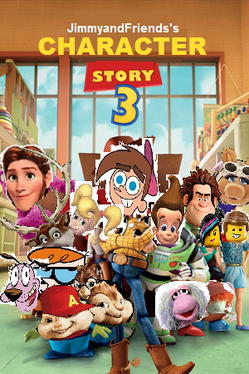 Cast:
Timmy Turner (The Fairly OddParents) as Woody
Jimmy Neutron as Buzz Lightyear
Cindy Vortex (Jimmy Neutron) as Jessie
Sven (Frozen) as Bullseye
Hans (Frozen) as Lots-O'-Huggin'-Bear
Boober Fraggle (Fraggle Rock) as Mr. Potato Head
Mokey Fraggle (Fraggle Rock) as Mrs. Potato Head
Courage (Courage the Cowardly Dog) as Slinky Dog
Wreck-It Ralph as Rex
Dexter (Dexter's Laboratory) as Hamm
Hiccup Horrendous Haddock III (How to Train Your Dragon) as Andy Davis
Libby Folfax (Jimmy Neutron) as Molly
Vanessa Bloome (Bee Movie) as Mrs. Davis
Jorgen Von Strangle (The Fairly Odd Parents) as Sarge
Wyldstyle/Lucy (The Lego Movie) as Barbie
Emmet (The Lego Movie) as Ken
Colonel Cutter (Antz) as Twitch
Turbo as Chunk
Jack Skellington (The Nightmare Before Christmas) as Mr. Pricklepants
Vanellope von Schweetz (Wreck-It Ralph) as Trixie
Bolt as Buttercup
Blossom (The Powerpuff Girls) as Dolly
Eeyore (Winnie the Pooh) as Chuckles the Clown
Junior Asparagus, Laura Carrot and Percy Pea (VeggieTales) as The Peas-in-a-Pod
Kirby as Totoro
Agnes (Despicable Me) as Bonnie Anderson
The Chipmunks (Alvin and the Chipmunks) as Squeeze Toy Aliens
Miss Piggy (Muppets) as Stretch
Nassor (Frankenweenie) as Sid Phillips
Ad blocker interference detected!
Wikia is a free-to-use site that makes money from advertising. We have a modified experience for viewers using ad blockers

Wikia is not accessible if you've made further modifications. Remove the custom ad blocker rule(s) and the page will load as expected.