Character Story 3 2010 DVD (VF2000's version): Mystery! Action! Intrigue! ...with a slice of pizza and chocolate malt to go, please. This would be released Spring 2010, replacing "Timmystachio".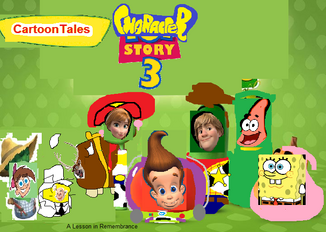 DVD Opening Previews
Warning screen
Coming Soon to Own on DVD
Now Available to Own on DVD
DVD menu
Why We Do, What We Do
DVD Closing Previews
Huhu Studios, ltd. Logo
JimmyandFriends' Entertainment logo
DVD Credits
Ad blocker interference detected!
Wikia is a free-to-use site that makes money from advertising. We have a modified experience for viewers using ad blockers

Wikia is not accessible if you've made further modifications. Remove the custom ad blocker rule(s) and the page will load as expected.