Charizard
(Black)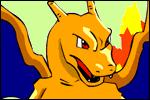 Charizard é um dos lutadores do Blast Battle. A Principio parecia um lutador comum e noob. Ele é um participante constante do Blast Battle, e gosta muito de lutar. Fez e continua fazendo várias lutas na comunidade Blast Battle Amistosos.
História
Pré Blast Battle
Black começou como um Charizard normal. Nunca havia aparecido antes no Blast Battle, apareceu do nada com seu parceiro Pikachu, com a dupla Eletric The Fire e se inscreveu para o Blast Battle Tag!. Mantinha um relacionamento amoroso com Roselia, uma frequentadora acídua do Blast Battle, mas levou um chute.
Blast Battle Tag!
Charizard participou do Blast Battle Tag! - torneio em duplas da série Blast Battle, crada por Pedro Meowth.Formou a dupla "Eletric The Fire" com Pikachu, sendo a unica dupla de novatos. Surpreendeu a todos com o seu bom modo de luta contra a dupla de campeões The Hells Kaisers de Grovyle e Infernape (outro perfil de Etebossu, campeão do Blast Battle II como Shiny Eipam). Porém não conseguiram passar de fase. Alguns participantes achavam que Charizard lutava bem, só perderam mesmo por causa do Pikachu, assim ele se sentiu motivado e falou que irá participar de outras edições do Blast Battle.
Blast Battle IV

Charizard volta às lutas no Blast Battle IV. Na 1ª fase enfrentou Kingler, uma luta que gerou um pouco de confusão por parte dos participantes em relação ao clima do campo, a luta ficou confusa e Charizard não conseguiu vencer Kingler. Charizard foi repescado e lutou contra o veterano Machoke, ele fez uma das suas melhores batalhas até agora, e segundo a juíza Charizard Pink, ele mereceu ter ganho surpreendendo a todos. Nas quartas de final ele enfrentou mais um veterano: Leafia. Mas, perdeu, embora tenha feito uma ótima luta.
Blast Battle V

Black se inscreveu no Blast Battle V, foi um dos poucos que não desapareceu após a forte crise que o torneio enfrentou. Na primeira fase enfrentou Mystery, popular lutador dos amistosos Blast Battle, e venceu. Na segunda fase lutaria contra Claydol, mas este desistiu alegando problemas. Nas quartas-de-finais, fez um clássico contra Tyrogue seu parceiro de Clã T.P.I.. Black em uma luta que se esperava mais dos dos lutadores, perdeu por pouca diferença de ponto.
Habilidades
Estilo de Luta
No Blast Battle Tag!, primeira participação de Black em torneios, tinha uma forte influência de Leafia, de uns tempos para cá, nota-se também que Blask foi influenciado por outros lutadores como Hitmontop, Grovyle e Tyrogue. Black concentra-se no equilibrio entre ataque e defesa e procura conhecer bem e explorar seu ambiente de luta.
Rodapé
Ad blocker interference detected!
Wikia is a free-to-use site that makes money from advertising. We have a modified experience for viewers using ad blockers

Wikia is not accessible if you've made further modifications. Remove the custom ad blocker rule(s) and the page will load as expected.