Charizad EX
(EX ou Terrorista)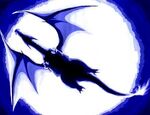 Dados
Lutas Julgadas
sem dados
Origem
Pokemon
Associado(a) à:
nenhuma
Charizard EX é um dos profissionais que trabalham na parte tecnica do Blast Battle. Participou do planejamento do Blast Battle Tag!, e atual Juíz ao lado de Pedro Meowth e Mr. Briney no Blast Battle IV.
História
Pré Blast Battle e Vida Pessoal
Charizard EX, no início, era apenas mais um Charizard comum, e como havia muitos na época, no auge da discussão por ser original ou não, Charizard EX passava por despercebido em quase todas as ocasiões. Pedro Meowth notou seu interesse pelo torneio, e deu-lhe a vaga de médico do Hospital Blast Battle. Charizard EX, mais tarde, causou polemica por dizer que se pudesse, afundaria sem dó o continente africano, por este motivo, é mencionado às vezes por Pedro Meowth como 'terrorista'. Também havia suspeitas de que seu off poderia ser o mesmo com relação ao participante Glalie, que foram desmascaradas mais tarde.
Blast Battle II e III
Já no final do Blast Battle II, Pedro Meowth precisou de um juiz para julgar a luta de disputa do terceiro lugar entre Hitmontop e Pidgeotto, e decidiu chamar Charizard EX para uma experiência como juiz, que foi bem aceita por ele e pelos demais membros do Blast Battle. Mais tarde, no Blast Battle III, Meowth contratou-o definitivamente para ser juiz. O Blast Battle III teve 5 juízes, dentre estes, os únicos que não participaram aleatóriamente como lutadores foram Meowth e o próprio EX. Em todo o torneio, Charizard EX não causou nenhuma polemica, apesar de ter quebrado um pouco a sua fama de 'discreto'.
Blast Battle Tag! e IV
EX foi contratado para ser juiz do Blast Battle Tag!, mas não teve muito trabalho a fazer, como o torneio não teve muitas lutas concluídas. Mais tarde, com a chegada do Blast Battle IV, Charizard EX voltou a atuar normalmente até a segunda fase, onde alegou que teria que fazer uma viagem em off, e não poderia retornar tão cedo, foi substituído por Charizard Pink. Voltou ainda no Blast Battle IV, mais não teve muito o que fazer. Foi escalado para a luta final, mais esta terminou por WO. A partir da grande crise, Charizard EX não apareceu mais.
Rodapé
Ad blocker interference detected!
Wikia is a free-to-use site that makes money from advertising. We have a modified experience for viewers using ad blockers

Wikia is not accessible if you've made further modifications. Remove the custom ad blocker rule(s) and the page will load as expected.