Charlotte's Web is a children's novel by American author E. B. White, about a pig named Wilbur who is saved from beingslaughtered by an intelligent spider named Charlotte. The book was first published in 1952, with illustrations by Garth Williams.
The novel tells the story of a pig named Wilbur and his friendship with a barn spider named Charlotte. When Wilbur is in danger of being slaughtered by the farmer, Charlotte writes messages praising Wilbur (such as "Some Pig") in her web in order to persuade the farmer to let him live.
Written in White's dry, low-key manner, Charlotte's Web is considered a classic of children's literature, enjoyable to adults as well as children. The description of the experience of swinging on a rope swing at the farm is an often cited example of rhythm in writing, as the pace of the sentences reflects the motion of the swing. Publishers Weekly listed the book as the best-selling children's paperback of all time as of 2000.[1
Charlotte's Web was adapted into an animated feature by Hanna-Barbera Productions and Sagittarius Productions in 1973. Paramount released a direct-to-videosequel, Charlotte's Web 2: Wilbur's Great Adventure, in the U.S. in 2003 (Universal released the film internationally). A live-action film version of E. B. White's original story was released on December 15, 2006. A video game based on this adaption was also released on December 12.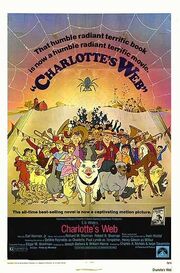 Parodies
Ad blocker interference detected!
Wikia is a free-to-use site that makes money from advertising. We have a modified experience for viewers using ad blockers

Wikia is not accessible if you've made further modifications. Remove the custom ad blocker rule(s) and the page will load as expected.