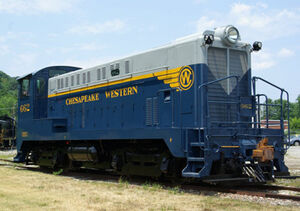 The 662 was built by Baldwin in Eddystone, PA in 1946. The engine was one of three diesel-electrics (along with the 661 and 663) placed in service on December 2, 1946. These three first-generation diesel locomotives completely transitioned the Chesapeake Western from steam to diesel power. The diesels' projected cost per mile of $.25 compared very favorably to the line's steam locomotives which operated at $.96 per mile (both exclusive of wages).
The three Baldwin DS 4-4-660 locomotives were retired in 1964, replaced by Alco T-6s. The 662 and 663 wound up in the Virginia Scrap Iron & Metal Co. scrap yard in Roanoke, VA, where they endured a number of floods and sat rusting for over forty years. Along with three N&W Class M2 steam locomotives, these became known as the "Lost Engines of Roanoke."
Virginia Scrap Iron & Metal Co. donated the engines to the Virginia Museum of Transportation. The Museum, in turn, established a series of partnerships which saved all five engines and additional rail stock from destruction.  The Baldwin diesels represent a historic step in the development of the technology that displaced steam from America's railroads in the 1940s and 1950s, a story that deserves to be preserved.
The Museum donated the 663 to the Roanoke Chapter of the National Railway Historical Society. In exchange, the Chapter committed to performing a cosmetic restoration of the Museum's 662. Both locomotives will eventually be restored to their striking blue and gold Chesapeake Western paint scheme.
Ad blocker interference detected!
Wikia is a free-to-use site that makes money from advertising. We have a modified experience for viewers using ad blockers

Wikia is not accessible if you've made further modifications. Remove the custom ad blocker rule(s) and the page will load as expected.