Chikorita
(Maryan)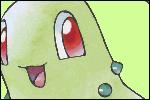 Desempenho
Lutas Oficiais
1
Vitórias
1
Derrotas
0
Aproveitamento
100%
Associado(a) à:
{{{acts}}}
Chikorita ou Maryan como prefere ser chamada, é uma lutadora do Blast Battle que teve sua estreia no Blast Battle IV. É considerada uma lutadora de nível médio, com algumas chances de conquistar o título.
História
Pré Blast Battle e vida pessoal
Maryan é prima em off de um outro tradicional participante: Nyno Luxray. Por coincidência, Maryan em outro perfil de Skitty, teve um caso com ninguem menos que o dono deste torneio: Pedro Meowth. Foi um namoro assumido que durou algumas semanas, e teve até um pequeno comentário na edição nº 1 da revista Blast Battle da parte de Meowth para ela. O namoro terminou por falta de contato entre os dois. Chokorita assumiu sentir algo por Grovyle, campeão da terceira edição dos torneios.
Blast Battle IV
O nome de Maryan foi sorteado para lutar com Glalie, um participante de nível médio, que teve um pequeno destaque no Blast Battle III, e no Blast Battle Tag! com a dupla gelada "The Ice Ones", a luta é a de número 11. Maryan avançou sem precisar lutar por causa da desistência de Glalie que alegava falta de tempo em off. Na segunda fase ela lutou com Leafia, um lutador também do tipo planta, que vem de uma vitória contra Infernape, como era esperado, Maryan Perdeu, e encerrou sua carreira no Blast Battle.
Ataques usados
Ad blocker interference detected!
Wikia is a free-to-use site that makes money from advertising. We have a modified experience for viewers using ad blockers

Wikia is not accessible if you've made further modifications. Remove the custom ad blocker rule(s) and the page will load as expected.