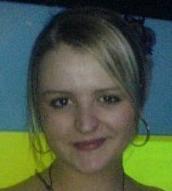 2004
Chloe Fox is a member of the Hele Crew in the stories of the Rivers she first was known in 2004 when she and her mate Ashleigh Conghan were in the same class as the other members of the Rivers. who are Scott Curtis and Steph Colledge however because of being on the same class the war between hele was stopped at college. For the reason of having to work togther. Amazing out of the whole class of 15. The only ones to manage to pass were Chloe and Ashleigh along with Scott and Steph.
2005
In 2005 Chloe kept with the Hele Crew and was third in charge she would normally be the leader for attack on the Rivers. However she did no big events for that year.
2006
Chloe started to work with Nick Green she joined up to help Steph Yates and also to help out Ashleigh Coghan. She was also behind the attack on Totnes however it was failed when the Rivers stopped her.
2007
Chloe went quiet over the year and nobody heard from her because she had a new partner. She was then thought to be living up in Scotland away from Devon.
2008
Chloe found herself being back stabbed by the Hele Crew and changes sides to work with the Rivers together with Scott Curtis they manage to stop a attack planned by Nick Green. She had now got married and was thinking about heading back with her partner. However she had a second thought and stayed behind. Later on that year her death was reported and Scott Curtis changes the events to make sure she lived.
Ad blocker interference detected!
Wikia is a free-to-use site that makes money from advertising. We have a modified experience for viewers using ad blockers

Wikia is not accessible if you've made further modifications. Remove the custom ad blocker rule(s) and the page will load as expected.