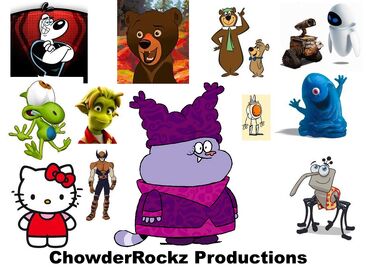 ChowderRockz
LIST OF MOVIES/VIDEO GAMES/TV SHOWS SO FAR:
A.T.O.M. Alpha Teens On Machines
Alienators: Evolution Continues
Cloudy with a Chance of Meatballs (2009)
Cosmic Quantum Ray
Foster's Home for Imaginary Friends
Hello Kitty's Animation Theater
Hello Kitty's Furry Tale Theater
Hey There, It's Yogi Bear!
Jimmy Neutron: Boy Genius (2001)
Madagascar: Escape 2 Africa
Mucha Lucha!
Mummies Alive!
Over the Hedge
Ozzy and Drix
Phineas and Ferb: Across the 2nd Dimension
Sonic the Hedgehog Videogames Series
Sonic the Hedgehog (1993 animated series)
The Amazing World of Gumball
The Avengers: Earth's Mightiest Heroes
The Huckleberry Hound Show
The Penguins of Madagascar
The Smurfs (1981 animated series)
The Super Hero Squad Show
The Sword in The Stone
The Ugly Duckling and Me!
Toonsylvania
Tiny Toon Adventures
Touché Turtle
A LIST OF PARODIES
MY FAVORITE CHARACTERS:
Rouge and Wolverine (X-Men Evolution)
Hello Kitty (Chowder's Girlfriends)
Yam Roll
Spidermonkey (Ben 10 Alien Force)
Yang (Yin, Yang, Yo)
B.O.B. (MOnsters Vs Aliens)
Timmy Turner
Tink (Bin Weevils)
Dinko (Pet Alien)