Translation : Priest / Economist from Mechelen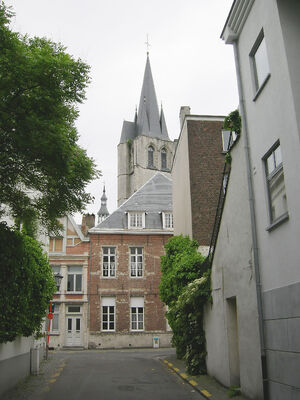 Christiaen – of Christiaan – De Cort werd geboren in Mechelen in 1611 en overleed te Amsterdam in november 1669. Christiaen De Cort was een priester / econoom.
Biografie
Christiaen De Cort kwam uit een welgestelde notarisfamilie uit Hilvarenbeek. In Mechelen stichtten de Oratorianen of Oratoren in 1630 een "Mechelse Huis", waarvan Christaen De Cort de bestuurlijke functies op zich nam. Na een tijdje werd hij Overste van het Mechelse Huis en Eerste Assistent en plaatsvervanger van de proost van het Vlaamse Oratoire.
Daarnaast vervulde hij als pastoor van de Mechelse Sint-Janskerk allerlei pastorale taken en was hij rector en contractant van het Sint-Josephshuis in Mechelen. Dit Sint-Josephshuis was een als armen(werk)huis ingericht kindertehuis dat in 1650-1651 fuseerde met het Mechelse "Blauwhuis", dat bedoeld was voor arme wezen. Tevens leidde hij in Mechelen het Sint-Romboutswerkhuis (genoemd naar de stichter Rombout van Diest), bedoeld om bedelaars onder te brengen en hen aan het werk te zetten. [1]
Tussen 1657 en 1662 reisde Christiaen De Cort naar Friesland om, namens zijn congregatie, leiding te geven aan de financiële organisatie, rond de inpoldering van Nordstrand, een waddeneiland voor de kust van Sleeswijk-Holstein.
Christiaen De Cort had jansenistische sympathieën die bij hem waren ontsproten tijdens zijn studies in Frankrijk (Christiaen De Corte had persoonlijke contacten met de theologen van Port-Royal).
In Mechelen ontmoette hij en werd hij een aanhanger van de Franse avontuurster en mystica Antoinette Bourignon, die korte tijd in Mechelen verbleef (1663). In haar gezelschapschap reisde Christiaen De Cort naar Amsterdam [2] om (nog) meer financiers aan te trekken voor zijn plannen om op het eiland Nordstrand een nieuwe kolonie te vestigen van Nieuwe Christenen. Deze kolonie werd getypeerd als de "Derde Macht" wat een spirituele beweging was waarvan de sekte van Antoinette Bourignon deel uitmaakte.
Deze plannen mislukten echter, waardoor Christiaen De Corte zwaar in de schulden kwam. Op veel sympathie uit Mechelen kon hij niet meer rekenen omdat hij de Orde had verlaten en samenwoonde met Antoinette Bourignon in Amsterdam. Christiaen De Cort werd uiteindelijk door zijn schuldeisers gegijzeld, voor de rechtbank gebracht en veroordeeld. Na zes maanden gevangenschap overleed Christiaen De Cort in november 1669.
Na de dood van Christiaen De Cort in een Amsterdamse cel erfde Antoinette Bourignon een deel van het eiland.
Christian De Cortes "Rekenboeck" bevindt zich nog steeds in het Landesarchiv Schleswig-Holstein en zijn "Codex Chartaceus" is te vinden in de handschriftenverzameling van de Kongelige Bibliotek in Kopenhagen.
Literatuur
"Eilân fan de Silligen" – Ypk Fan der Fear – 1981 [3]
"Een Mechelse pastoor ten onder in de Waddenzee – de oecumenische en economische avonturen van pater Christaen De Cort" – Handelingen van de Koninklijke Kring voor Oudheidkunde, Letteren en Kunst van Mechelen 92 – 1988
"De priester spekulant Christiaen de Cort en zijn familie tussen geld en geloof in Noord Brabant" - L.F.W. Adriaensen – 1991
Christiaen De Cort schreef ook het boek "The light of the world : a most true relation of a pilgrimess, M. Antonia Bourignon, travelling towards eternity", oorspronkelijk geschreven in het Frans ("La lumière du monde"), vertaald in 1681 in het Nederlands als "Het licht des weerelds" en in 1696 vertaald en uitgegeven in het Engels in Londen. [4]
Externe links
Voetnoten
Ad blocker interference detected!
Wikia is a free-to-use site that makes money from advertising. We have a modified experience for viewers using ad blockers

Wikia is not accessible if you've made further modifications. Remove the custom ad blocker rule(s) and the page will load as expected.