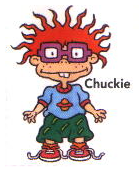 Chuckie Finster
is Tommy's best friend from
Rugrats
. He was originally voiced by
Christine Cavanaugh
and was later voiced by
Nancy Cartwright
after Cavanaugh's retirement.
Candi Milo
voices him in the PS2 and Gamecube game,
Royal Ransom
.
Bio
Age: 2
Hair Color: Red
Clothing: Purple Square Glasses, Blue Shirt with Yellow Saturn, Green Pants, White Socks, Red Shoes
Allies: Chaz (father), Kira (stepmother), Kimi (adopted younger sister), Marvin (grandfather), Shirley (grandmother), Tommy Pickles (best friend), Phil DeVille, Lil DeVille, Dil Pickles, Susie Carmichael
Enemies: Angelica Pickles, Timmy McNulty, Teddy McNulty, Terry McNulty, Ty McNulty, Todd McNulty
Counterparts (Rugrats Version)
Percy the Small Engine (Thomas the Tank Engine and Friends; both are best friends to Tommy and Thomas)
Yoshi or Luigi (Super Mario Bros.)
Bo, Booker, Odie, or Wade (Garfield and Friends)
Buster Baxter or George (Arthur)
Toad, Joseph, Cody, or Bowser Junior (SML)
Emmett Heglin (Good Luck Charlie)
Kyle Broflovski or Kenny McCormick (South Park)
Skate Lad (Teamo Supremo)
Carl Wheezer (Jimmy Neutron)
Sparx or Hunter (Spyro the Dragon)
Einstein (Back to the Future)
Thumper (Bambi)
Alex Pruitt (Home Alone)
Dr. Nefario (Despicable Me) 
Ed, or Jimmy (Ed, Edd, n Eddy) 
Buzz Lightyear, Slinky Dog, or Rex (Toy Story)
The Sandman (Rise of the Guardians)
Toto, Lion, or Tin Man (The Wizard of Oz)
Rigby or Pops (Regular Show)
Heimlich (A Bug's Life)
Matt, Tom, or Tord (Eddsworld) 
Bruce Bogtrotter (Matilda)
Dash Parr or Jack-Jack Parr (The Incredibles)
Verne or Hammy (Over the Hedge)
Jake the Dog (Adventure Time) 
Bill Badger (Rupert)  
Mike Wazowski (Monsters Inc./Monsters University) 
Featherstone (Gnomeo & Juliet (2011))
Charlie Brown or Linus Van Pelt (Peanuts)
Numbuh 2 (Codename: Kids Next Door)
Snuffy (Jay Jay the Jet Plane)
Bingo Beaver (The Get Along Gang)
Sting the Hornet (Maya the Bee/Movie)
Counterparts (All Grown Up Version)
Whiff (Thomas the Tank Engine and Friends, both wear glasses)
Lord Stinker (TUGS/Salty's Lighthouse)
Irving (Chuggington)
Gallery
Ad blocker interference detected!
Wikia is a free-to-use site that makes money from advertising. We have a modified experience for viewers using ad blockers

Wikia is not accessible if you've made further modifications. Remove the custom ad blocker rule(s) and the page will load as expected.