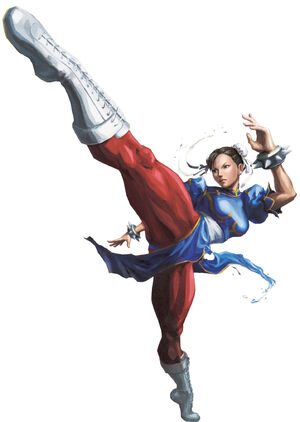 Chun-Li
is a character from
Street Fighter
.
Counterparts
Lanolin or Penelope (Garfield and Friends)
Penelope Pitstop (Wacky Races/The Perils of Penelope Pitstop)
Dexter's Mom, Lee Lee, or Creepy Eyed Girl (Dexter's Laboratory)
Sam Manson (Danny Phantom)
Princess What's-Her-Name (Earthworm Jim)
Tyris-Flare (Golden Axe)
Blaze Fielding (Streets of Rage)
Ling Xiaoyu (Tekken)
Blue Mary Ryan (Fatal Fury/The King of Fighters)
Gwen, Ella, Bridgette, or Lindsay (Total Drama)
Twilight Sparkle (My Little Pony Friendship is Magic)
Numbuh 3 (Codename: Kids Next Door)
Ad blocker interference detected!
Wikia is a free-to-use site that makes money from advertising. We have a modified experience for viewers using ad blockers

Wikia is not accessible if you've made further modifications. Remove the custom ad blocker rule(s) and the page will load as expected.