Ligações
Texto a incluir na proposta à Câmara de Odivelas:
Fotos que acompanham a exposição feita ao município de Odivelas
Fotos do parque de bicicletas da estação de metro de Odivelas
Mobilidade Sustentável em Odivelas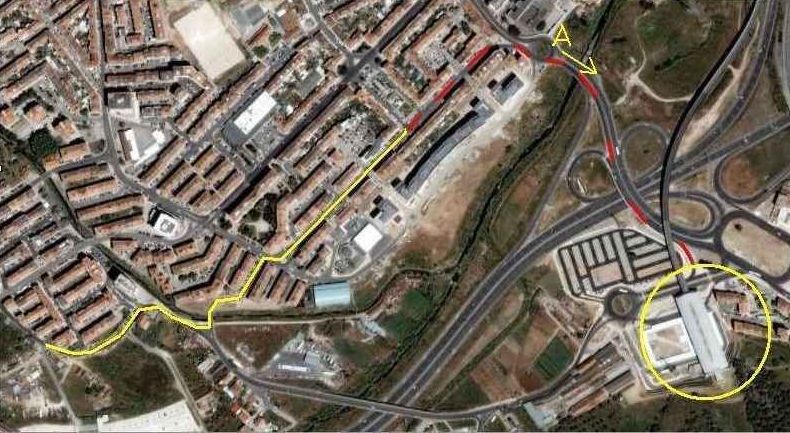 Na imagem de cima está patente a área entre Odivelas e o Senhor Roubado. Nela é possível ver a amarelo a actual ciclovia; a vermelho tracejado a secção sem ciclovia que a liga à estação de metro do Senhor Roubado (ESR); e rodeado por um círculo amarelo a própria estação.
Quanto a mim será bastante interessante juntar às propostas já feitas no texto que o João escreveu uma que poderá ser chamada "Evolução futura", indicando como poderão crescer as ciclovias já feitas de modo a tornarem-se muito mais efectivas.
Há muita gente que circula a pé entre a ESR e Odivelas, por duas razões: para evitar pagar um bilhete ou passe mais caro (2 coroas) e/ou porque a Estação de Odivelas fica demasiado para Nordeste da cidade, próxima da Póvoa de Sto Adrião. O caminho que as pessoas fazem a pé é aquele que está assinalado pelo tracejado vermelho. Ora este caminho, entre a ESR e a rotunda assinalada com A, é um viaduto com duas faixas de rodagem para cada lado onde se praticam velocidades demasiado elevadas.
Na foto A, que foi tirada no local assinalado com o ponto A no mapa, no sentido indicado pela seta, é possível confirmar essa situação.
Foto A Ao fundo vê-se o viaduto do metro. Para trás da foto fica Odivelas.
Fazendo um pouco de aproximação (foto B), verifica-se que o local onde as pessoas têm de atravessar a pé é um acesso à CRIL, onde até já é possível ver a sinalização típica de vias reservadas a automóveis e auto-estradas. Creio ser fundamental esta passadeira ser sobre-elevada (o que em inglês se chama raised intersection), ou seja, em vez de as pessoas descerem e subirem passeios, deverão ser os carros a terem que subir e descer uma lomba. Quanto a mim o passeio também deveria ser todo reformulado, alargado e a ciclovia que começa em Odivelas estender-se por aqui até à Estação do Senhor Roubado.
Foto B

Quanto à parte que fica entre o Ponto A e a ciclovia, não tem nada que saber, nem percebo por que razão pararam por ali, é só continuar as ciclovia. Senão vejam a foto C:
Foto C
Para ver o texto a incluir na proposta à Câmara de Odivelas: Proposta
Ad blocker interference detected!
Wikia is a free-to-use site that makes money from advertising. We have a modified experience for viewers using ad blockers

Wikia is not accessible if you've made further modifications. Remove the custom ad blocker rule(s) and the page will load as expected.