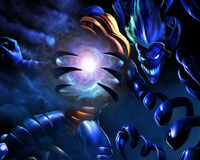 Cień (ang. Shadow) - upadły niematerialny byt, pozbawiony cielesnej powłoki, będący jedynie widmem samego siebie. Negatywna energia nieznanego pochodzenia. Dawniej najbliższy Wszechmogącemu. Aktualnie wygnany i pozbawiony mocy. Legendy mówią, że zbiera on armię aby po raz kolejny stanąć na przeciw Tlena.
Ad blocker interference detected!
Wikia is a free-to-use site that makes money from advertising. We have a modified experience for viewers using ad blockers

Wikia is not accessible if you've made further modifications. Remove the custom ad blocker rule(s) and the page will load as expected.