Segunda parte de Cielo Negro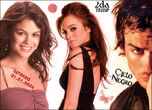 Ficha
Título: Cielo Negro 2
Slogan: Enfrenta Tus Miedos
Año: 2006
Autor(es): Rorro
Género: Drama, Suspenso, Fantasía, Romance.
Breve reseña: Después de las brutales experiencias vividas el año anterior, Francesca, Miranda y Alexandra deben enfrentarse a su verdadero destino, mientras los nuevos residentes de Cielo Negro empiezan a revolver las vidas de los protagonistas.
Protagonistas: Francesca Carranza (Lindsay Lohan), Miranda Sedini (Hilary Duff), Alexandra Santoro (Eliza Dushku), Federico Sedini (Adam Brody), Fabián Roca (Ian Somerhalder), Nicole Román (Rachel Bilson).
Enlaces para leer
Ad blocker interference detected!
Wikia is a free-to-use site that makes money from advertising. We have a modified experience for viewers using ad blockers

Wikia is not accessible if you've made further modifications. Remove the custom ad blocker rule(s) and the page will load as expected.