Cindy is an pink quarry diesel engine. She is based on British Rail Class 02 0-4-0. She is best friends with Mavis.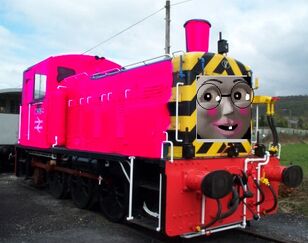 She is a Silly cute diesel engine and she has bucked teeth and wears glasses on.
Allies: Mavis (Best friend), Rosie (Kind friend), Emily, Molly, Billy (boyfriend), Percy (second boyfriend), Murdoch, Thomas, James, Gordon, Henry
Friends: Diesel, Diesel 10, Spencer, Big City Engine, George, Bulgy 
Counterparts (Thomas Version)
Sally Seaplane, Sarah Shoepack (fan made), or Pearl (TUGS)
Bluenose (Theodore Tugboat)
Cream, Amy Rose, Sticks, Melody Prower, or Amy Rose jr (Sonic the Hedgehog)
Counterparts (Connor and Caitlin version)
Madge (Thomas the Tank Engine and Friends)
Counterparts (Male Version)
Ad blocker interference detected!
Wikia is a free-to-use site that makes money from advertising. We have a modified experience for viewers using ad blockers

Wikia is not accessible if you've made further modifications. Remove the custom ad blocker rule(s) and the page will load as expected.