Cloud Atlas is a 2012 Warner Bros. movie.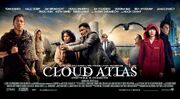 Cast 
Tom Hanks as Henry Goose/Isaac Sachs/Zachry
Halle Berry as Luisa Rey/Meronym
Jim Broadbent as Vyvyan Ayrs/Timothy Cavendish
Hugo Weaving as Bill Smoke/Old Georgie
Jim Sturgess as Adam Ewing/Hae-Joo Chang
Doona Bae as Tilda Ewing/Sonmi-451
Ben Whishaw as Robert Frobisher
James D'Arcy as Young Rufus Sixsmith
Zhou Xun as Yoona-939/Rose
Keith David as Joe Napier
Susan Sarandon as Ursula/Abbess
Hugh Grant as Lloyd Hooks
Parodies (Don't delete, but you can add some more)
Ad blocker interference detected!
Wikia is a free-to-use site that makes money from advertising. We have a modified experience for viewers using ad blockers

Wikia is not accessible if you've made further modifications. Remove the custom ad blocker rule(s) and the page will load as expected.