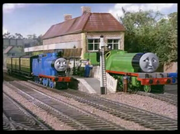 Coal is a first season episode.
Plot
Henry is sick at Tidmouth Sheds. Later Henry's driver talked to Sir Topham Hatt telling him that Henry's firebox is to small. Then the fireman realizes that Henry has the wrong type of coal. Soon Henry got some special coal and was feeling very good again.
Characters
Henry
Sir Topham Hatt
James
Edward (does not speak)
Thomas
Annie and Clarabel (does not speak)
Ad blocker interference detected!
Wikia is a free-to-use site that makes money from advertising. We have a modified experience for viewers using ad blockers

Wikia is not accessible if you've made further modifications. Remove the custom ad blocker rule(s) and the page will load as expected.