Cody is from Supermariologan.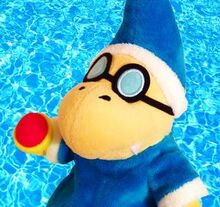 Counterparts
Winnie the Pooh, Eeyore, Tigger, or Rabbit (Winnie the Pooh)
Brick or Boomer (The Powerpuff girls)
Buster Bunny, Bugs Bunny, or Plucky Duck (Tiny Toon Adventures)
Thomas, Gordon, Henry, Percy, or James (Thomas)
Sportacus, Pixel, or Stingy (Lazytown)
Mickey Mouse, Goofy, or Donald Duck (Mickey Mouse)
Boots the Monkey, Boot's Dad, Tico, or Benny the Bull (Dora the Explorer)
Parodies
Ad blocker interference detected!
Wikia is a free-to-use site that makes money from advertising. We have a modified experience for viewers using ad blockers

Wikia is not accessible if you've made further modifications. Remove the custom ad blocker rule(s) and the page will load as expected.