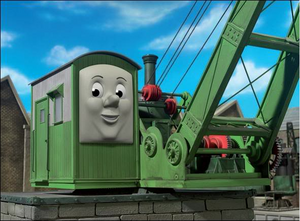 Colin
Is a Wharf Crane. His first appearence was in the
Season 12
episode, "The Party Surprise".
Theme
Colin's theme is the instrumental from the Season 6 episode, It's Only Snow.
Counterparts (Thomas Version)
Dr. Nick Riviera (The Simpsons)
Wario's Brother Walouie (WarioWare (T,J&H Version), both made one appearance)
Wendel T. Wolf (Taz-Mania)
Dr. George (Animaniacs)
Counterparts (Skarloey Version)
Cranky (Thomas the Tank Engine and Friends)
Big Mickey (TUGS)
Gallery
Ad blocker interference detected!
Wikia is a free-to-use site that makes money from advertising. We have a modified experience for viewers using ad blockers

Wikia is not accessible if you've made further modifications. Remove the custom ad blocker rule(s) and the page will load as expected.