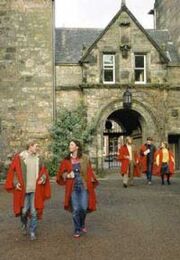 Espalhados pelo mundo nas principais vilas bruxas, os universitários devem sempre procurar uma das lojas Tropobelo e pedir por uma pantufa de dragão. A atendente levará para um dos provadores, onde poderá encontrar tal pantufa. Ela na verdade é uma Chave de Portal, quando tocada o aluno é levado para o Jardim dos Bem-Vindos já nos Campus da universidade.
Normalmente a aulas começam no primeiro final de semana de setembro. Porém, alguns alunos por os mais diversos motivos chegam antes do ínicio das aulas. Eles ficam na Estalagem em Ruvkegilli, ou até mesmo em seus oposentos nas fraternidades.
Locais onde se encontram as Chaves do Portal:
Alemanha - Heidelberg
Austrália - Thundelarra
Brasil - São Tomé das Letras
Bulgária - Vratsa
Dinamarca - Karasjok
Estados Unidos - Fitchburg
França – Quiberon
Irã - Bandar Gaz
Israel - Rosh HaAyin
Japão - Toyohashi
Peru - Tarapoto
Polônia - Grodzink
Portugal - Braga
Reino Unido – Hogsmeade
Tongo - Tchamba
Uganda – Patonga
Página Inicial 

Ad blocker interference detected!
Wikia is a free-to-use site that makes money from advertising. We have a modified experience for viewers using ad blockers

Wikia is not accessible if you've made further modifications. Remove the custom ad blocker rule(s) and the page will load as expected.