Concours Owners Group - NW
---
Events
Rides
Schedule
Stories
Now... Why did that happen Colin? I went to the section with the pic and statement about the Or. trip. Then, I figured out how to get a pic put in to your article. I put them right in the text box, under your last sentance... one under another, until I'd uploaded 5 or 6.
Then, when I was done, I went to the main page expecting to see my pic uploads in the right section. But instead, they're stacked right down the left column... right with all the following topics.
This is my story... and I'm curious about it  :) Greg
CP: I know whats going on with this, and will see if I can figure out how to fix it. It's possible this is not the best forum to post a whole bunch of photos. So it may work best to provide just one and use that as the link to the rest. Leme play with it.
BTW - In your webshots... you do know that most your captions say "GOC Ride", right? hehehehehehehe LOL :) CP: - Thanks I'll fix then delete this comment and yours when done
BTW, BTW, BTW - I'm sure you tech experts already know this... But if you click on one of those pics, you get a page that has a link (center/up) that says "higher resolution". It makes the pic full size (so you can see Jim's smilin' face and Colin's eyes through his helmet).
Scrapbook
Oregon Coast Ride June 16th 2007 Pictures From Colin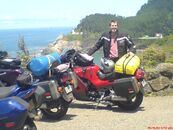 A good time was had by all! :-)
This
space
used
to
write
summary
of the trip





GPS DATA
Waypoint files
Routes
Tracks
---
Wrenching
Schedule
 NW  NWCOG Regional July 13, 14th 2007 - Enterprise, Oregon Dates: 7/12/2007  to 7/14/2007 
   Desc: NWCOG Regional Meet - Enterprise, Oregon 2007 July 13, 14 Join NWCOG for its Regional Meeting Friday and Saturday July 13, and 14th 2007 in Enterprise Oregon. Right in the heart of the Wallowa Mountains and at the foot of Rattlesnake Grade, Enterprise has some of the best motorcycling backroads in the Northwest. We have a block of rooms at the Ponderosa Motel in the heart of town as our Headquarters motel. And the Saturday night dinner will be a BBQ Buffet within walking distance from the HQ motel. Please call 541-426-3186 and book your room now a this is a very popular tourist area for visitors to historic Joseph and Wallowa Lake close by. We'll be posting more information on a schedule, ride maps, dinner plans etc... in the near future. However as this is an extremely popular area I'd recommend getting your rooms booked now. Nightly rates range from $66.10 to $98.10 (tax included) for very clean comfortable and large rooms. Identify yourself as a COG member and you'll get a 10% room discount! Again call the Ponderosa at 541-426-3186 Also as an overflow motel if necessary call the Wilderness Inn at 541-426-4535 In the meantime if you have questions please e-mail me keemobrandy@comcast.net and I'd do my best to get you an answer. Thanks everyone and I hope to see you in Enterprise!!! Here's a couple links to the area. http://www.enterpriseoregon.org/City/index.htm http://www.wallowacountychamber.com  
   Email: Bob Pappalardo  Phone: 253-653-4068 

---
 NW  50/50 B.C. & Washington State - 3 day weekend loop Dates: 8/10/2007  to 8/12/2007 
   Desc: A 3 day loop across southern B.C. and back across northern Washington with a layover / ride day in Nelson. More info: http://www.ldrider.ca/50-50ride/50-50Loop.htm  
   Email: David Morrow  Phone: none given 

---
 NW  Volcano Ride Saturday August 18th, 2007 - Randle, Washington Dates: 8/18/2007  to 8/18/2007 
   Desc: Volcano Ride NWCOG - Randle, Washington 2007 August 18 Its back! The ride made famous By Dan Paulsen. Meet at the Mt Adams Family restaurant for breakfast in Randle, Washington on US Hwy. 12 Saturday August 18, 2007 and spend the day exploring the roads around Mt. St. Helens. Ride leaves Randle at 9:00, early enough to beat the traffic up to Windy Ridge. Then ride on paved NFS roads down to the mighty Columbia River and East on WA 14 to Bingen, WA for lunch at 1 PM. After lunch, back on Hwy 14 East then up to Trout lake via hwy 142 up the Kilickatat and Glenwood and ending up back in Randle. This will be an all day event riding some of the best roads and seeing the best scenery in the Northwest! Contact Dan, Roland or myself for any details. danodemotoman@yahoo.com Dan Paulsen / motovetro@comcast.net Roland Vetter / keemobrandy@comcast.net Bob Pappalardo  
   Email: Dan Paulsen  Phone: none given 

---
 NW  RIDE THE RIBBON 2007 Dates: 8/31/2007  to 9/3/2007 
   Desc: Former Executive Director and current membership directors Ronda and Carl Metler will be this years hosts of the famous Ride The Ribbon for 2007., Ride the Ribbon is a perfect way to enjoy everything the beautiful Central Oregon area has to offer. Spend the long Labor Day weekend enjoying fabulous scenery, great roads and great people. It's got a new format! It's now a camping ride. Camp at the Grant County Fairgrounds in John Day. Food and Motels are within walking distance. Quiet, grassy, uncrowded, shaded campsites next to the John Day River two blocks from town center. Hot showers and bathrooms available for the campground. City swimming pool available. This will encourage an even greater assortment of stories and lies told around a campfire that we've not heard before. Campground games to be announced. All this and enjoy the fantastic roads of Eastern Oregon with the lack of traffic we're known for. Contact Carl and Ronda Metler for more information and signup at 541-575-0208 and at Membership@Concours.org The Best Western in John Day 1-541-575-1700 is also a lodging option Hope to see you all there again!  
   Email: Ronda and Carl Metler  Phone: 541-575-0208 

---
 NW  Tour BC 2007 Dates: 9/10/2007  to 9/15/2007 
   Desc: Tour BC (British Columbia) NWCOG 2007 September 10, 11, 12, 13, 14, 15 Tour BC will be on again this year at a different date. Mark your diaries for September 10 - 15 inclusive. The Tour is presented this year by the Okanagan Burgman Riders. Rally Master Victor Ince has a new route with 500 km (300 mile) days with stops where there are motels and campgrounds close to each other. Start and finish in Penticton or Kelowna. Please confirm as soon as you know you are coming. E-mail to Victor Ince at vince@vip.net or phone and mail address in the COG directory.  
   Email: Victor Ince  Phone: none given

Reports
Pictures
Technical
Tips & Tricks
Don't leave your records in the Su hu un, they'll warp and they'll warp and they'll warp and they'll ward and they'll won't be ggg, ggg, ggg, ggg, gggood for anyone, anyone, anyone........
John Hartford
Shop
For Sale
Wanted
Hot off the Press
Rumor Mill
Mike B is thinking of going over to the dark side! No not a Harley! worse, a HONDA! Argh!!!!! Here is his report and evidence of Mikes Defection
Wait! Not a defection, only broadening my horizons. Mike B.
Come on Mike you need to do better than that! Colin P. :-)
Hey Mike, nice pics from NE Wash... Sooooo, are you an owner of a bike that REALLY HAS WING SIZED TIRES ???? Greg M.
Nope, just a rental to experiment with the idea. Got to tell you tho, I was impressed (and so was Pauline). Her with the extended comfort and me with the handling and responsiveness (you can take a 30MPH curve at 65-70 on a wing too)  :0) Mike B.

The word is Enterprise!
Ad blocker interference detected!
Wikia is a free-to-use site that makes money from advertising. We have a modified experience for viewers using ad blockers

Wikia is not accessible if you've made further modifications. Remove the custom ad blocker rule(s) and the page will load as expected.