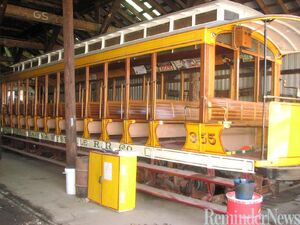 Saturday morning, volunteers at the Connecticut Trolley Museum found three trolley cars dating back to 1905 stripped of their copper and brass components. Discovered during a convention of trolley enthusiasts from other trolley museums east of the Mississippi River, damage is estimated to be in the tens of thousands of dollars. Thieves were able to peel back a section of the metal siding on the barn to gain access. Once inside, crowbars were used to pry brass pieces off of the ceilings, windows, and exterior of these wooden cars doing extensive damage to the woodwork. Also, wiring was cut and some of the control gear was stripped out of the cars. The three cars that were stripped include:
Car 1326 - the Museum's Birthday Car
Car 840 - the last open car to operate in revenue service in the United States
Car 101 - a freight motor that the Museum acquired in 2009
Now, all three will require extensive work before they can be returned to operation for museum patrons to enjoy. Parts were missing from a fourth car in the barn that was already partially disassembled.
In addition, the lock was cut on a track tool shed to gain access; however, it does not appear that any track materials were stolen.
Ad blocker interference detected!
Wikia is a free-to-use site that makes money from advertising. We have a modified experience for viewers using ad blockers

Wikia is not accessible if you've made further modifications. Remove the custom ad blocker rule(s) and the page will load as expected.