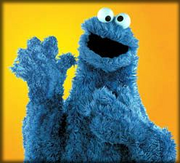 Cookie Monster
is one of the main protagonists from
Sesame Street
. He is best known for his voracious appetite and his famous eating phrases: "Me want cookie!", "Me eat cookie!" and "Om nom nom nom!" (said through a mouth full of food). In earlier appearances, he was voiced by
Frank Oz
. Currently, he is voiced by
David Rudman
, but Oz still voices him occasionally.
Trivia
According to the 1978 special, Christmas Eve on Sesame Street, Cookie Monster is allergic to peanut butter cookies and hazelnut cookies.
Counterparts
Parodies
Gallery
Ad blocker interference detected!
Wikia is a free-to-use site that makes money from advertising. We have a modified experience for viewers using ad blockers

Wikia is not accessible if you've made further modifications. Remove the custom ad blocker rule(s) and the page will load as expected.