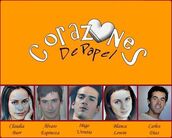 Ficha
Título: Corazones de Papel
Slogan: Mis amigos han hecho la historia de mi vida...
Autor(es): Zergipio
Género: Juvenil
Protagonistas: Carola Valdebenito (Claudia Burr), Ignacio Zuánic (Álvaro Espinoza), Fabián Landaeta (Iñigo Urrutia), Silvana Camus (Blanca Lewin), Benjamín Keller (Carlos Díaz)
Breve reseña:Esta historia gira en torno a unos jóvenes que entran a la Universidad Central Metropolitana, UCEM, a estudiar Ingeniería Civil en Informática. En la novela, quedarán reflejados sus sueños, fracasos, esperanzas, diferencias sociales y económicas, sus problemas académicos, sus primeras amistades y sus inolvidables romances...
Links
Ad blocker interference detected!
Wikia is a free-to-use site that makes money from advertising. We have a modified experience for viewers using ad blockers

Wikia is not accessible if you've made further modifications. Remove the custom ad blocker rule(s) and the page will load as expected.