Cosette 
is a character from
Les Miserables
and portrayed by
Amanda Seyfried
.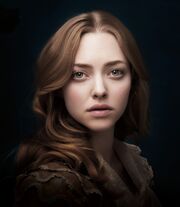 Counterparts (Do not delete, but you can add)
Glinda (Oz: The Great and Powerful)
Daisy Duck (Mickey Mouse)
Barbie (Toy Story)
Colette (Ratatouille)
Princess Jasmine (Aladdin)
Lady (Thomas)
Ariel (The Little Mermaid)
Min (Barney)
Gabi (Sesame Street)
Miss Piggy (Muppets)
Meg Griffin (Family Guy)
Pink Panther's Girlfriend (The Pink Panther)
Tiff (Kirby)
Princess Mindy (Spongebob)
Dora (Dora the Explorer)
Chris (The Brave Little Toaster)
Mom Asparagus (VeggieTales)
Chun-Li (Street Fighter)
Jun Kazama (Tekken)
Iris (Mega Man X)
Kanga (Winnie the Pooh)
Ad blocker interference detected!
Wikia is a free-to-use site that makes money from advertising. We have a modified experience for viewers using ad blockers

Wikia is not accessible if you've made further modifications. Remove the custom ad blocker rule(s) and the page will load as expected.