Fantasy Costume Designs
Basic Drone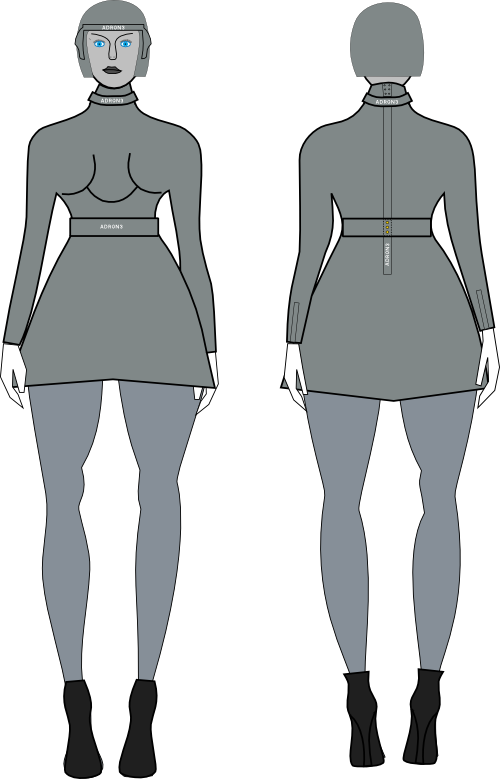 Technical script
Undershaping: Sports bra, and modified prosthesis is worn. Dance belt as appropriate
Makeup: Face, and back neck if visible is pale grey, Lips in Dark Grey or Charcoal, Eyes are lined in Blue. False lashes on upper lid, in black.
Wig: Grey/Silver Bob style, base of wig at front should be level with base of lips.
Footwear: Black ankle length boots, moderate heel.
For prepare see Undershaping and Makeup as above.
1. Grey/Silver tights are worn 2. Dress is stepped into and waistline brought up to natural waistline Collar panel is folded down. 3. Sleeves are slipped down with arms over the head, arms then lowered and sleeves adjusted. 4. Wrist zips are closed (concealed by panel as shown) 5. Rear zip is brought to shoulder line, and dress is adjusted to fit. 6. Collar is folded up, Rear zip is brought fully to neck seam, through gap in Collar panel. 7. Collar panel is folded up and the 6 snap fastners or studs shown are closed securing it and the rear zip. 8. Boots are placed on both feet, zips closed accordingly. 9. Waist belt is brought in, with printed portion upright,belt is adjusted on upright figure, brought taut, and snap fastners, studs closed. 10. Neck band is cliped, wresting at base of neck over shoulders. 11. Grey/Silver wig placed on head, and adjusted so it rests as noted. 12. Head band is adjusted and placed on forhead, so that 'cans' rest over ears. 13. Phones are angled and pushed gently firm with side of head, over ears.(NB. Cosmetic tape may be used to secure phones as appropriate.) 14. Wig may be clipped accordingly on upright figure.. 15. Costume is ready.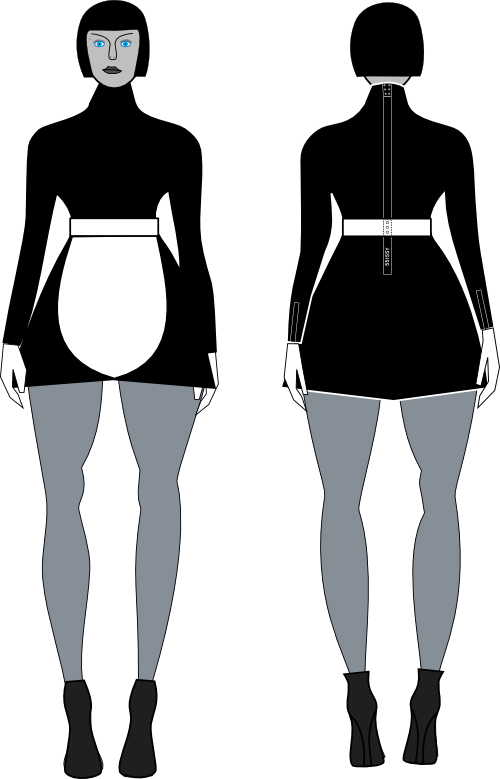 'Service' model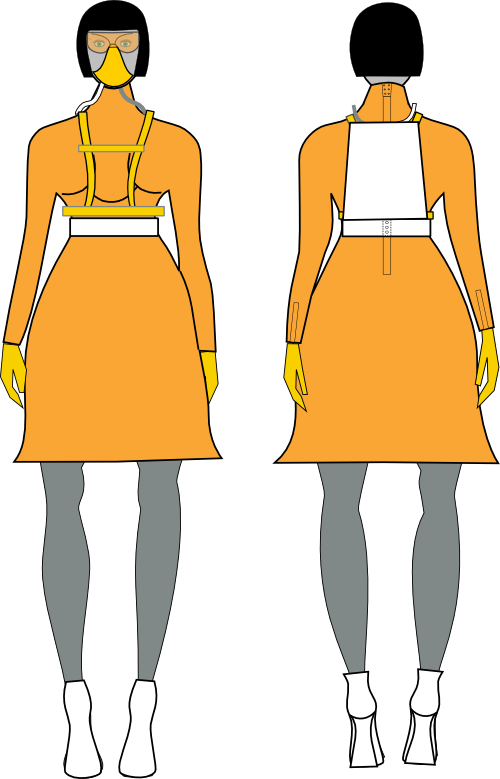 'Drone for Utility Cleanup Control'
Ad blocker interference detected!
Wikia is a free-to-use site that makes money from advertising. We have a modified experience for viewers using ad blockers

Wikia is not accessible if you've made further modifications. Remove the custom ad blocker rule(s) and the page will load as expected.