Welcome to the Costume Kid mini wiki at Scratchpad!
You can use the box below to create new pages for this mini-wiki.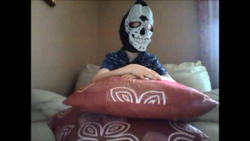 Costume Kid
is a kid in a costume that says rude stuff, does rude things, and dresses as a skeleton.
Costume Kid is a British series hosted on Vimeo.
Characters
Costume Kid
Mr. Arnold Keys - Costume Kid's father
Mrs. Linda Keys - Costume Kid's mother
Sallybuckle Keys - Costume Kid's headless sister who has a hat for a face
Episodes
Pillow                 .                           10.College  
Snack
Sex Education Book
Toy
Pee On Shirt
Sleepy Tablets
Schoolbag X1
Stage
Ad blocker interference detected!
Wikia is a free-to-use site that makes money from advertising. We have a modified experience for viewers using ad blockers

Wikia is not accessible if you've made further modifications. Remove the custom ad blocker rule(s) and the page will load as expected.