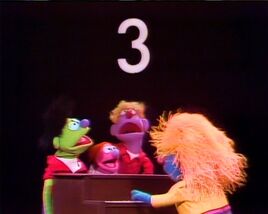 Count it Higher
is a Sesame Street song from Season 5 about the thrill of counting, performed by Little Chrissy and the Alphabeats in their debut appearance. During the song, the Alphabeats attempt to count several times, first up to three, then up to five. Finally trying once again, they count all the way up to ten. This song is a parody of The Top Notes' hit "Twist and Shout!" The song was released in 1973 and was written by
Christopher Cerf
Notes
In their first appearance, there are three Alphabeats (besides Little Chrissy) instead of two, and the two members who regularly appeared look slightly different: The Lavender Alphabeat sports messy blond hair instead of a smooth brown pompadour, the Green Alphabeat has fuzzy black hair as opposed to his usual blonde hair, and they both have wide, circular eyes with no eyelids; this was the Hot Pink Alphabeat's only gig with the band. The Alphabeats' voices are provided by Richard Hunt, Jeff Moss, and Jerry Nelson in this song.
Jon Stone directed this segment.
Releases
Count it Higher: Great Music Videos from Sesame Street (1988)
Sesame Street: 25 Wonderful Years (1993)
The Best of Sesame Street Spoofs! (2011)
Ad blocker interference detected!
Wikia is a free-to-use site that makes money from advertising. We have a modified experience for viewers using ad blockers

Wikia is not accessible if you've made further modifications. Remove the custom ad blocker rule(s) and the page will load as expected.