New Visage Costumers character
---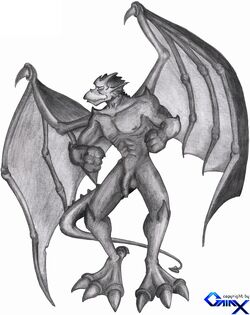 Full human name: Craig Friedrich
Primary player: D.Dragon
Debut: Sept 29, 2005
Craig Friedrich is a young high school student who bought a gargoyle costume from NVC with the intent to scare a girl at a costume party he was attending. Jenny Turnbul decided to teach him a lesson by selling him a defective costume that would turn him to stone 15 minutes after wearing it. After several months living on the roof of NVC as a decoration, Amber DeReed freed him one night to keep her company and a relationship soon developed. When Amber had a miscarriage, she blamed him for it, stating that if he hadn't gotten her pregnant in the first place she wouldn't have needed to feel the pain of loss. After convincing him to let her freeze him again, which she promised would only be for a short time, she put on a non-morphic triceratops costume and bludgeoned him to rubble with her tail.
Notable Visages
Gargoyle (Defective), Gargoyle statue
Ad blocker interference detected!
Wikia is a free-to-use site that makes money from advertising. We have a modified experience for viewers using ad blockers

Wikia is not accessible if you've made further modifications. Remove the custom ad blocker rule(s) and the page will load as expected.