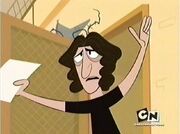 Craig McCracken (Born March 31st, 1971) is an American animator who created the television shows, The Powerpuff Girls and Foster's Home for Imaginary Friends. He has been married to Lauren Faust since 2004.
Ad blocker interference detected!
Wikia is a free-to-use site that makes money from advertising. We have a modified experience for viewers using ad blockers

Wikia is not accessible if you've made further modifications. Remove the custom ad blocker rule(s) and the page will load as expected.