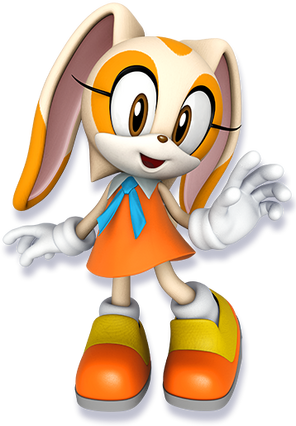 Cream the Rabbit is a character from the Sonic the Hedgehog video games.
Video Game Appearances
Sonic Advance 2 (2003)
Sonic Pinball Party (2003)
Sonic Heroes (2004)
Sonic Advance 3 (2004)
Shadow the Hedgehog (2005)
Sonic Rush (2005)
Mario & Sonic at the Olympic Games (2008)
Sonic Chronicles: The Dark Brotherhood (2008)
Mario & Sonic at the Olympic Winter Games (2010)
Mario & Sonic at the London 2012 Olympic Games (2011)
More Coming Soon!
Bio
Species: Anthropomorphic Rabbit
Age: 6
Fur Color: Tan
Eye Color: Orange
Clothing: Orange Dress, Yellow and Orange Shoes
Friends: Amy Rose, Cosmo (best friends), Big the Cat, Cheese (Pet Chao), Vanilla the Rabbit (Mother) Blaze the Cat, Sonic the Hedgehog (good friend), Miles "Tails" Prower, Shadow the Hedgehog (boyfriend)
Enemies: Dr. Robotnik "Eggman", Metal Sonic
Counterparts (Girl Version)
Pugwash or Bonnavista (Theodore Tugboat)
Koko or Piper (Chuggington)
Birdo, Toadette, Princess Peach, Princess Rosalina or Princess Daisy (Super Mario Bros.)
Dot Warner or Mindy (Animaniacs)
Cloe, Mrs. Chicken, Penelope, Lanolin, or Arlene (Garfield and Friends)
Fauna (Sleeping Beauty)
Phoebe Heyerdahl (Hey Arnold)
Charlie Duncan (Good Luck Charlie)
Jigglypuff, Emolga, Buneary, Marill, or Aipom (Pokemon)
Reese Dylen (Zachary Swain)
Fluttershy or Twilight Sparkle (My Little Pony: Friendship is Magic)
Tammy Warners, Bebe Stevens, Liane Cartman, or Wendy Testaburger (South Park)
Molly Cunningham (Talespin)
Khannie (The Wacky World of Tex Avery)
Webby Vanderquack (Ducktales)
Ducky (The Land Before Time)
Anne Marie (All Dogs Go to Heaven)
Tracy (EarthBound/Mother)
Matilda Wormwood, Amanda Thripp, or Lavender (Matilda)
Periwinkle (Blue's Clues)
Fluffles (Wallace and Gromit)
Bo Peep or Jessie or Bonnie (Toy Story)
Lin Chow Bang, Katrina or Toula (Fat Pizza)
Velma Dinkley (Scooby Doo)
Tootie (The Fairly OddParents)
Beth, Izzy or Sierra (Total Drama)
Boo (Monsters, Inc.)
Laura Carrot or Annie (VeggieTales)
Isabelle (Babar)
Sophie Bennett (Rise of the Guardians (2012))
Sarah (Fireman Sam)
Ottoline (Rupert)
Whirlwind (Skylanders)
Sally Brown (Peanuts)
Barry or Maya the Bee (Maya the Bee/Movie)
Counterparts (Boy Version) (Do not delete, but you can add)
Percy, Duck, Billy, Thomas, Harold, James, Edward or Salty (Thomas the Tank Engine and Friends)
Sunshine, Grampus or Ten Cents (TUGS)
Yoshi (Super Mario Bros.)
Miles "Tails" Prower, Rotor the Walrus, Charmy Bee, Billy Hatcher or Sonic the Hedgehog (Sonic the Hedgehog)
Bo Sheep, Booker, Wade Duck, Orson Pig, or Odie (Garfield and Friends)
Dan Jones (Shining Time Station)
Bambi (Bambi)
Furrball (Tiny Toon Adventures)
Tweety Bird (Looney Tunes)
Spongebob Squarepants (Spongebob Squarepants)
Perry the Platypus (Phineas and Ferb)
Pikachu (Pokemon)
Kirby (Kirby)
Rush (Mega Man)
Q*Bert (Wreck-It Ralph) 
Rigby (Regular Show)
Noah or Tyler (Total Drama)
DJBJ, Chong Fat, Habib, Pauly Falzoni or Davo Dinkum (Fat Pizza)
Wags The Dog (The Wiggles)
Mondo Gecko (Teenage Mutant Ninja Turtles)
Mort (Madagascar)
Billy Hatcher (Billy Hatcher)
Patch (Thomas and the Magic Railroad)
Syrphie or Maya the Bee (Maya The Bee/Movie)
Parodies
Gallery
Ad blocker interference detected!
Wikia is a free-to-use site that makes money from advertising. We have a modified experience for viewers using ad blockers

Wikia is not accessible if you've made further modifications. Remove the custom ad blocker rule(s) and the page will load as expected.