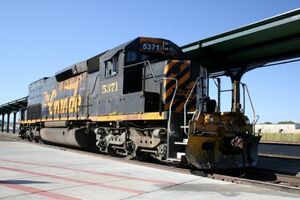 Rio Grande SD40T-2 #5371 was built August 1975 and was operational until March 8, 2008. After Union Pacific incorporated the Rio Grande, 5371 was the last T-2 that was still in the full Rio Grande paint. It was retired to Cheyenne, Wyoming until the Union Pacific decided to donate it to the Utah State Railroad Museum. It was delivered and spotted on Union Station's track one on August 16, 2009. It sat on display in this location until March 28, 2010 when it was relocated under the Eccles Rail Center canopy between the Centennial and SP 7457 .
Ad blocker interference detected!
Wikia is a free-to-use site that makes money from advertising. We have a modified experience for viewers using ad blockers

Wikia is not accessible if you've made further modifications. Remove the custom ad blocker rule(s) and the page will load as expected.