Translation : Politician from Mechelen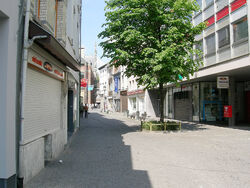 Désiré Jacques Romain Bouchery werd geboren te Gent op 18 november 1888 en zal overlijden op 6 november 1944 in Mechelen. Désiré Bouchery was leraar, gemeenteraadslid en schepen te Mechelen (1921) en volksvertegenwoordiger voor de Belgische Werkliedenpartij (BWP), waarvan hij eerst secretaris en later ondervoorzitter van werd. Ook bekleedde hij het ministerambt voor de PTT (Het voormalige Ministerie van Post, Telegraaf en Telefoon in België) van 1936 tot 1938.
Biografie
Désiré Bouchery begon in 1909 als redacteur te werken bij de krant "Vooruit" [1] en in 1911 vinden we hem terug als lesgever bij de Socialistische Centrale voor Arbeidersopvoeding, voor het opleiden van partijmilitanten, die zullen opklimmen tot de kaderleden van de Socialistische Partij.
Désiré Bouchery was ook redacteur in de Samenwerkende Maatschappij Het Licht, waar hij, in 1912, wordt opgevolgd door de, latere, Gentse auteur van romans, toneelstukken en verhalen Jozef de Graeve [2].
Mechelen
In 1919 wordt Désiré Bouchery naar Mechelen gestuurd waar hij een prominent inwoner wordt van deze stad. Hij schopt het, in dat jaar, tot Socialistisch gemeenteraadslid [3] en zal, tussen 1921 en 1923, Schepen van Onderwijs worden.
Wereldoorlog II
Tijdens wereldoorlog II bestrijden Mechelse verzetsgroepen de Duitse bezetter. Door een granaataanslag op de Mechelse Kommandantur, die echter geen schade toebrengt, worden er - als represaillemaatregel - 10 oud-krijgsgevangen ondergebracht in de Citadel van Luik. In mei 1941 worden deze echter vervangen door twee gemeenteraadsleden, namelijk Désiré Bouchery [4] en de Mechelse liberale advocaat Oscar Vankesbeeck die 6 weken zullen verblijven in het Fort van Breendonk.
Beiden zullen, kort na de Bevrijding van België, overlijden, getekend door hun gevangenschap [5]. In de Belgische Kamer van Volksvertegenwoordigers wordt Désiré Bouchery opgevolgd door Antoon Spinoy (November 1944) [6].
Den Haan
In de Belgische badplaats De Haan bestond er het Home Désiré Bouchery [7], gelegen in de Sparboslaan 17 in de deelgemeente Klemskerke. Deze villa, oorspronkelijk gekend als Villa Mattinata, werd in 1952 aangekocht door de "VZW De Toekomst" uit Mechelen, met als doel kinderen-en jongerenvakanties te organiseren. In de voortuin van het home stond er lang een stenen hoofd van Désiré Bouchery.
In 1984 voldeed het home niet langer aan de geldende veiligheidsvoorschriften en in 1995 werd het verkocht. Het home werd daarna afgebroken [8].
Boeken
Een biografie van Désiré Bouchery vinden we terug in het boek "Désiré Bouchery, 20 eeuwen Vlaanderen, deel 14" (pag. 267-270) van Walter de Brock, uitgegeven door de Hasseltse uitgeverij Heideland-Orbis NV uit 1976.
Externe links
Voetnoten
Ad blocker interference detected!
Wikia is a free-to-use site that makes money from advertising. We have a modified experience for viewers using ad blockers

Wikia is not accessible if you've made further modifications. Remove the custom ad blocker rule(s) and the page will load as expected.