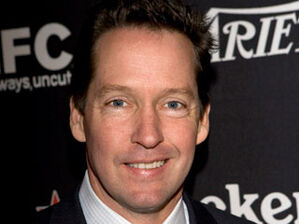 Daniel Bernard "D.B." Sweeney
(Born November 14, 1961) is an Award winning American Actor, Film Producer, Director, Children's Author, Puppeteer, Animator, Screenwriter, Editor, Entrepreneur, Pioneer, Clown, Live Action Model, Composer, Voice Actor, Artist, Puppet Builder, Songwriter, Storyboard Artist, Entertainer, Dancer, Singer, Enviromentalist, Philanthropist, Disney Historian and International Icon. He is best known for his smash hit icons of Children's Literature and Entertainment "
Terry the Blubber
", "
You Malignant Sow
", "
The Dangers of Mynn and Jynn Wason
" and more and animating, directing, writing and producing the successfully rave reviewed Children's Animated Shows "
VeggieTales
", "
Willy Wonka's Chocolate Factory
", "
Madeline
" and "
The Madcap Adventures of Terry the Blubber
". Sweeney's Work and Imagination spans the Worlds of Traditional Animation, Film, Television, Stage, Radio, Puppetry, Music, Stop Motion Animation, Imagineering, Children's Literature, Television Comedy, Slapstick Comedy, Animated Feature Films and Children's Entertainment. He is known as the "Walking Idea Machine", "Whizzpopper", "Mastermind" and "Creative Genius" to Children and Adults alike. He is currently on top of the
List of people who have won Academy, Emmy, Grammy and Tony Awards
.
Biography
Early Life
Sweeney was born on Long Island, New York and raised in Shoreham by a broadway performing father and an Cartoonist mother. He started falling in love with Films when he was 4, starting with Mary Poppins, Alice in Wonderland, Snow White and the Seven Dwarfs, The Sound of Music and The Wizard of Oz. When he was 8, he immediately wanted to become a Songwriter after watching Oliver, he wrote many songs that would become smash hits. When he was 7, he started performing on stage musical productions at School. While on School Holidays, his father would take him to Broadway to see Musicals and Plays, there he started his singing and dancing career when he played Oliver Twist. He attended Shoreham-Wading River High School, where he was a member of the Omega Gamma Dalta fraternity. He also became a Screenwriter when he wrote his first short film Terry the Blubber, but it was not realized until 1975. He attended both Tulane, New York University and CalArts. Though he had trouble getting sizable roles in student productions while still in school with the exceptions of Hello Dolly, Mary Poppins and Oliver, upon his graduation he was immediately cast in the Broadway revival of The Caine Mutiny Court-Martial, Oklahoma! and The Music Man. He wrote his very first Children's Book entitled "A Plumbing We Will Go", it was based on The Three Stooges short film of the same title. He taught himself how the Draw Cartoons and Paint when he was just 5. He made Comic strips for Preschoolers that contains Broad Slapstick Comedy and hilarious Characters, Cartoons of New York City in the 1900s, 10s, 20s and 30s and Paintings of Nature. He also loved the Muppets. When he watched Television a little further away as a child, he would watch the Muppets created by none other than Jim Henson whether either Commercials, guest appearances or even TV Specials. He also builded his own Live Hand Muppet version of Ernie in which his Parents are very proud of him instead of getting angry at Sweeney in which he makes his own versions of Bert and Ernie Sketches and Songs. Sweeney also began his passion for Steam Trains, Historic Cars and Period Films for Children when he always went to his Favourite Train Museums and Stations when he writes and illustrates his Books and made his Drawings and Paintings.
Career
Sweeney began his career as an Animator at CalArts with his unrealized Screenplays including Terry the Blubber. He loved Traditional Ink and Paint that he also did the whole Animation with real Ink and Acrylic Paint. He moved to Disney to work on Animated Feature Films such as The Many Adventures of Winnie the Pooh and Pete's Dragon. He won his first Academy Award for Terry the Blubber. Sweeney also guset starred on Television series' The Edge of Night and Spenser: For Hire before entering Live Action Films, where potrayed a gung-ho Vietnam enlistee in Francis Ford Coppola's Gardon of Stone (1987). Sweeney wrote his first nightmare proof Slapstick Musical Comedy Classic style Movies for younger Children Vaudeville, Broadway Madness and Steam Train for Disney, all of which are Box Office, Critical and Audience Smash hits.
Sweeney is perhaps best remembered for his portrayal of Shoeless Joe Jackson in Eight Men Out (1988), The Cutting Edge or Dish Doggett in Lonesome Dove. In addition to Film Roles, he continues to work on Television and Theater. In 1996, he starred in a Fox series Strange Luck in which he played an amnesiac freelance Photographer with strange Powers that resulted from being the sole survivor of an Airplane Disaster. That same year, he starred as Willy Wonka in the Broadway version of Charlie and the Chocolate Factory.
He began Puppeteering with the Muppets in 1975 when Jim Henson, Frank Oz, Jerry Juhl, Richard Hunt, Don Sahlin, Jerry Nelson, Dave Goelz and Jon Stone saw him performing their Characters at a Vaudeville Comedy Variety Show at the Strasburg Railroad in Strasburg, Pensylvania, after the performaces, Sweeney agreed to join the Muppets because he's the hugest fan of the Muppets. His first Muppets appearance was the Pilot Episode of The Muppet Show, in which he performed Kermit the Frog's Cousin, Curly. Sweeney started to work on Sesame Street as a Puppeteer and he later began expaning his Sesame Street Career as an Animator, Writer, Puppet Builder, Illustrator and Actor.
Outside Children's Entertainment and Traditional Animation, Sweeney also starred in Memphis Belle (1990), Blue Desert(1991), Fire in the Sky (1993) and Hardball (2001). Outside the world of Film, he starred in many Theater Musicals and Plays including Ragtime, Titanic, Cats, Starlight Express, Annie, You Can't Take It with You, Peter Pan and many others, garning countless Tony Awards. Since he never wanted to show Nudity, Violence, Sex, Profanity and Guns in Movies and Television, he creates Audio Animatronics from Jim Henson's Creature Shop in New York as his replacements. He also started Composing Music for Films and Wrote Songs for both Film, Television, Radio, Broadway and Theater.
Never the one to rest on his Laurels, Sweeney always looks ahead for New Ideas, Challenges and more Ambicious Projects. Without using any Computers, Digital Techniques or help from Computer Animation Production System at all, he created and developed impossible Special Effects, Film Technology, Cinematic Visions, Realistic Audio Animatronics and complicated Puppets of his own.
Personal Life
Sweeney is a Serious but caring Vegetarian, Treehugger, Humanitarian, Nature and Animal lover, Enviromentalist, Christain, Catholic, Buddist, Less-overprotective Parent, Respectful Person and Philanthropist. He joined Kentucky Fried Cruelty in 1998, PETA in 1994, Broadway Cares/Equity fights AIDS in 2000, Children in Need in 2001 and the American Humane Association in 2004. Following the footsteps of his Family, he never smoked, drank Alcohol, dealed with Drugs, get bullied, had Sex with anybody or even sweared, not even in public. He never liked War, Violence, Corruption, Child or Animal Abuse, Guns, Scrap Metal, Tobacco, Drug Abuse, Alcohol Abuse, Demolition or Pollution.
He has the largest Collection of Classic Cars, Trains, Buses, Vans and other Transports in his Museum for Children "Heritage of Transportation". His Animation Cels are always on display at the Animation Museum in Disneyland. He even made his own Railroad in his Hometown called "Terry the Blubber's Railway" for Children.
He is president of his Charitable organization The Terry the Blubber Foundation.
Filmography
Director
Music Videos
Ad blocker interference detected!
Wikia is a free-to-use site that makes money from advertising. We have a modified experience for viewers using ad blockers

Wikia is not accessible if you've made further modifications. Remove the custom ad blocker rule(s) and the page will load as expected.