Introduction
These are various images and slides found online. Please be aware that some may be graphic.
Cell Images
Images found in the article CytoJournal 2005: Desmoplastic small round cell tumour: Cytological and immunocytochemical features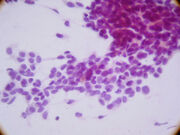 Clusters of small round tumor cells showing rosette-like features in smear of fine needle aspiration specimen of DSRCT.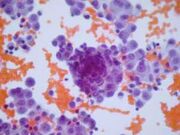 Effusion from patient with DSRCT exhibiting high cellularity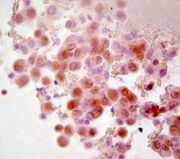 DSRCT tumor cells in effusion showing nuclear positive reaction to WT1
Reference Free Biomedical Images
Contact: dsrct.wiki@gmail.com
Ad blocker interference detected!
Wikia is a free-to-use site that makes money from advertising. We have a modified experience for viewers using ad blockers

Wikia is not accessible if you've made further modifications. Remove the custom ad blocker rule(s) and the page will load as expected.