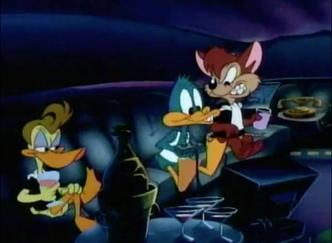 Danforth Drake and Roderick Rat is the minor villain characters of Tiny Toon Adventures. They was voiced by Rob Paulsen and Charlie Adler.
Bio
COMING SOON
Counterparts
Biff and Bull (Shining Time Station)
Zilly and Klunk (Dastardly and Muttley)
Slink and Toby (Arthur)
Teddy McNulty and Terry McNulty (Rugrats)
Wolfgang and Edmund (Hey Arnold)
Arbok and Seviper (Pokemon)
Grem and Acer (Cars 2)
Jeffery Fecalman and Michael Pulaski (Family Guy)
Bill Allen and Fosse McDonald (South Park)
Rapscallion #2 and Rapscallion #3 (VeggieTales)
Axel and Loco (A Bug's Life)
Buzz and Delete (Cyberchase)
Big Bad Wolf and Weasel (Mickey Mouse)
Little Lincoln and Moose (Foster's Home for Imaginary Friends)
Mad Dog and Dump Truck (Talespin)
Anchor and Chum (Finiding Nemo)
Stan Woozle and Heff Heffalump (Winnie the Pooh)
Wormo and Smudge (Adventure Time)
Baboso Goretega and Dirk Pratt (Monsters University)
Ned and Zed (Planes)
Eggplant Wizard and King Hippo (Captain N: The Game Master)
Vega and Balrog (Street Fighter)
The Wasps (Maya the Bee)
Ad blocker interference detected!
Wikia is a free-to-use site that makes money from advertising. We have a modified experience for viewers using ad blockers

Wikia is not accessible if you've made further modifications. Remove the custom ad blocker rule(s) and the page will load as expected.