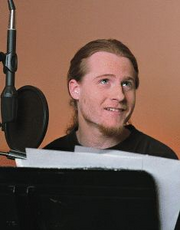 Daniel Ray Allen "Danny" Cooksey Jr.
(Born November 2, 1975) is an American singer, actor, and voice actor.
He voiced Sam McKinney on Diff'rent Strokes, Robert "Bobby" Budnick on Salute Your Shorts, Montana Max on Tiny Toon Adventures, Deacon Logan on the Bill and Ted's Excellent Adventures cartoon series, Urchin on The Little Mermaid cartoon series, Victor the Bully on The Ren & Stimpy Show, Stoop Kid on Hey Arnold, Mr. Patch on Banjo-Tooie, Keef on Invader Zim, Jack Spicer on Xiaolin Showdown, Dave on Dave the Barbarian, Thaddeus on Phineas and Ferb, Hotstreak on Static Shock, and Peng from Kung Fu Panda: Legends of Awesomeness.
Ad blocker interference detected!
Wikia is a free-to-use site that makes money from advertising. We have a modified experience for viewers using ad blockers

Wikia is not accessible if you've made further modifications. Remove the custom ad blocker rule(s) and the page will load as expected.