Dark Ages: Conquest at Wikia
---
[
]
Welcome to the Dark Ages: Conquest mini wiki at Scratchpad!
You can use the box below to create new pages for this mini-wiki. Make sure you type [[Category:Dark Ages: Conquest]] on the page before you save it to make it part of the Dark Ages: Conquest wiki (preload can be enabled to automate this task, by clicking this link and saving that page. Afterwards, you may need to purge this page, if you still see this message).
An attempt to create an open source clone of the Medieval; Rome: Total War series.
Related pages
---
Factions: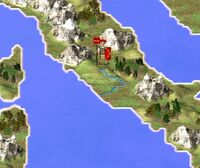 The Byzantine Empire
The Frankish Kingdom
The Ostrogoths
The Visigoths
The Vandals
The Anglo-Saxons
The Burgundians
The Julians (Western Roman Emperor and followers exiled to Dalmatia)
Barbarians Rebels
Comments
"LETS GET WORKING PEOPLE!!!"-ETS

Have you ever considered kind of fusing FreeCiv with Stratagus? Using the FreeCiv turnbase-capabilities, and Stratagus for the RTS part? Just a wild thought. Really love the idea you people are having -- enjoyed Shogun TW totally...
Progress
March 1, 2007
I've been working on creating the game map and here are some screen shots of what I've accomplished so far. There's still a good amount of work to be done on the landscaping.
-David
March 1, 2007 6:13 AM UTC



The following screen shots so added color and some more texture to the map.
-David
March 1, 2007 5:28 PM UTC

-David March 7, 2007
Much of Europe is now complete save the addition of cities. Also have began working on army units for the map.



-Edwin April 21, 2007
The Frankish Kingdom avatar is more than 85% complete.
-Edwin April 27, 2007
The Frankish Kingdom campaign avatar is 100% done

-Edwin June 17, 2007
The Burgundian faction is 33% done (Will add picture here after I get back my passwords)
---
Contact
I have a lot of ideas as far as story line, artwork and graphics goes. In order to get this project started I need the help of the community. Programmers, graphic artists and game testers are needed. Please email me at dyous87@gmail.com if you would like to help out get this of the ground.