Casting Concepts for Star Wars: Dark Horizons, The Movie
Player Characters
Instructions:
Upload your character pic. Most pics already here are 140 pixels high.
After uploading your pic, click on the picture's Edit tab and add [[Category:Dark Horizons Mush]] to include your pic in our wiki.
Click on the Edit tab for this page to add your character. Just copy the 4 pics per row format.
Alternative suggestions to the prequel cast.
Anakin
Reference - Sebastian Shaw
(Jake Lloyd and Robert Iler also resemble Seb Shaw)
Obi-Wan

Reference - Alec Guinness
Yoda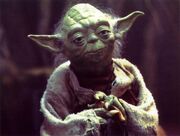 Reference - Yoda







Ad blocker interference detected!
Wikia is a free-to-use site that makes money from advertising. We have a modified experience for viewers using ad blockers

Wikia is not accessible if you've made further modifications. Remove the custom ad blocker rule(s) and the page will load as expected.