Dark is the Moon is the third novel in Ian Irvine's The View From the Mirror quartet, part of the greater Three Worlds Series.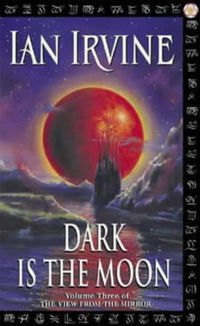 Setting
Rulke has been freed. Just as the allies believe they have him defeated, Rulke forces the Nightland to draw him back, but not before delivering a startling prophecy:
"When the dark moon is full on mid-winters day, I will be back. I will crack open The Forbidding and open the Way between the Worlds. No one has the power to stay me. The Three Worlds will be Charon evermore."
To which Shand replies:
"Break down the golden horn, Wish the glass unmade, Fear the thrice born, But beware the thrice betrayed."
Karan and Llian fleeing through a gate, unwittingly send themselves to the Nightland, Rulke's thousand year old prison. While the allies are racked by aftersickness and are faced with the dilemma of sealing the Nightland, with Karan and Llian inside, to end the threat of Rulke, or to try and save them and risk losing their only chance of saving Santhenar.