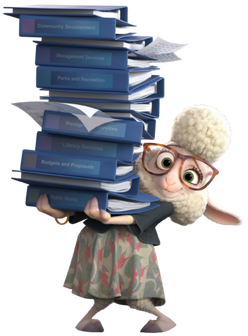 Assistant Mayor Bellwether is the main antagonist of the 2016 Disney animated feature film Zootopia.
Counterparts
Mona (Garfield and Friends)
Muttley's Girlfriend (Dastardly and Muttley)
Molly McDonald (Arthur)
Big Patty (Hey Arnold)
Judith Anastasia "Judy" Funnie (Doug)
Debbie Thornberry (The Wild Thornberrys)
Mama Gunda (Tarzan)
Dianne Simmons (Family Guy)
Darla Sherman (Finding Nemo)
Sedusa (The Powerpuff Girls)
Shego (Kim Possible)
Vicky (The Fairly Oddparents)
Gretchen (Camp Lazlo)
Bellatrix Lastrange (Harry Potter)
Lady Devimon (Digimon)
Piella Bakewell (Wallace and Gromit)
Shelly Marsh (South Park)
Lena Dupree (Scooby-Doo)
Ursula (The Little Mermaid)
Marjory the Trash Heap (Fraggle Rock)
Marceline (Adventure Time)
The Evil Queen (Snow White)
Beautiful Gorgeous (Jimmy Neutron)
Ad blocker interference detected!
Wikia is a free-to-use site that makes money from advertising. We have a modified experience for viewers using ad blockers

Wikia is not accessible if you've made further modifications. Remove the custom ad blocker rule(s) and the page will load as expected.