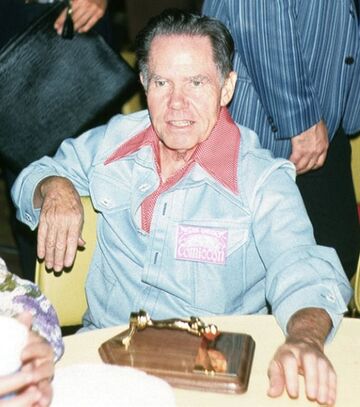 Charles Dawson "Daws" Butler
(born November 16, 1916-died May 18, 1989) was a voice actor originally from Toledo, Ohio. He mostly worked for Hannah-Barbera.
He originated the voices of many famous characters, such as: Yogi Bear, Quick Draw McGraw, Snagglepuss, Huckleberry Hound, Wally Gator, Peter Potamus, Baba Louey, Hokey Wolf, Chilly Willy, Elroy Jetson, and Mr. Jinks. On Wacky Races, he voiced Peter Perfect, Rufus Ruffcut, Sergeant Blast, Rock Slag, Big Gruesome, and Red Max. He also was the original voice for Captain Crunch.
He was the mentor of Nancy Cartwright.