Ad blocker interference detected!
Wikia is a free-to-use site that makes money from advertising. We have a modified experience for viewers using ad blockers

Wikia is not accessible if you've made further modifications. Remove the custom ad blocker rule(s) and the page will load as expected.
1960
1961
"I loved the excitement of music but I just wasn't making a living - Jamaica is the land of my birth and I love it, but it just wasn't happening. The police were very oppressive at this time [of the Rasta] and Ossie encourage me to go to England. So I stow away a few times but never make it, then Randy [Vincent Chin] pay for me to come over." (Rico quoted by Michael de Koningh, 2003, p. 14)
1962-1963
1962: In London Rico recorded again with Laurel Aitken here for Melodisc with Les Dawson Combo: "Going Back To Kansas City".
1962 and later: "I was playing R&B sessions for Blue Beat as well as Planetone - [Emil] Shallit and [Siggy] Jackson treat me good. I also worked regularly with Georgie Fame's band The Blue Flames at the Roaring Twenties - I didn't see Georgie much though. I'd walk in with my trombone and they'd say, "Hey man, come and have a blow." I also used to see Count Suckle, who's done a lot for the people, you know. But I never did any work for Island at this time." (Rico quoted by Michael de Koningh, 2003, p. 16)
"There were signs in the boarding house windows "No blacks, no Irish"; it was very hard. I stayed with friends in Tottenham and I worked at Ford Motor Factory and did other dirty jobs. One time I worked in a rubber factory and I had to take my clothes off outside as I was so dirty. My friends were into different things so then I moved to south London." (Rico quoted by Michael de Koningh, 2003, p. 14)
1969
"'I did plenty of work for Dandy [Livingston], and Webster and Desmond and Joe [Shrowder, Bryan and Sinclair respectively - Trojan]. I also did work for Pama - they all used to call me - I never pestered for work, it came to me.
'I was a freelance - and Joe Mansano I did work for as well, and he only paid sesion fees. Me and Dice the Boss would play over backing tapes. He's also called Pama Dice and maybe BaBa Dice.' So while some of Mansano's finest recordings, such as the classic "Skinhead Revolt", featured the DJ jiving of Dice and Rico's jazz-fuelled trombone, in some cases the actual session was dubbed over existing rhythm tracks." (Rico quoted by Michael de Koningh, 2003, pp. 70/71)
1974
Roy Shirley remembers: "'It was here [at his Imperial Record shop] that I was filmed for the Aquarius TV programme on British reggae - you can see me walking outside the shop. Then I was taken, with Rico Rodriguez, to Phebes' club in Amhurst Road.' In the programme Roy gives a thoroughly spirited performance of his 1967 classic 'Wear You At The Ball'." (see Michael de Koningh, 2003, p. 44)
1982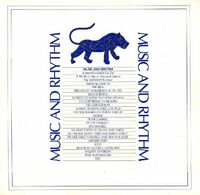 2.2.: "Jungle Music" was released on 7" and 12" 2Tone-singles.
After Rico had released his last 2Tone single, "Jungle Music", he rearranged the title and called him "What You Talkin' Bout"; the live performance with a very different arrangement was released on a compilation called Music And Rhythm (DoLP: WEA K68045), for the benefit of Peter Gabriel's initiative later called WOMAD; see: Discogs. The song appeared later also as "You Must Be Crazy" or "Jungle Beat" on Live CDs.
1983
Paul Young had a huge success with his single "Love Of The Common People": Rico contributes a trombone solo on of his last appearances befor leavng for Jamaica.
1984-1987
Rico's living in Wareika Hills.
1994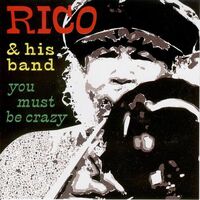 29.3.: Rico & His Band, live at FZW, Dortmund, Germany. The concert was recorded by Peter Brandt and later that year released as one of the first records on the new Grover label titled You Must Be Crazy
1999
2000
11.11.: Live with The Roots To The Bone Band at El Sotano, Buenos Aires, Argentina; the concert was recorded, and parts were later released on the CD Togetherness
2001
20.10.: Live with The Roots To The Bone Band at Niceto Club, Buenos Aires, Argentina; the concert was recorded and parts were released in 2003 on the CD Togetherness
2003
2004
19.3.: ROTTERDAM SKA JAZZ FOUNDATION - RICO, Salle des Fêtes à Palaiseau; review and pictures at Reggaelution.net
4.7.: at Summer Jam, Cologne /DE; pics at Reggaephotos.de
30.10.: w/ Soulfood International, St. Gallen /CH; pics at Ska-Pics.de
31.10.: w/ Soulfood International, Freiburg; pics at Ska-Pics.de; another picture at Jazzhausverein
November: Trojan Artist of the month; a special presentation on Trojan's web site coninciding the release of Rico's anthology 2CD set Trombone Man contained a discography of uk single releases, liner notes, scans of labels and articles on Rico; deleted (it's a real shame)
4.12.: Live at Sala Apolo / Barcelona (?); pictures at La Factoria del Ritmo.com
Rico's essential album Man From Wareika from 1976 has been re-released in Japan: in its original mix as well as in the rare dub mix as Warrika Dub. The dub mix appears for the first time officially on CD.
2005
2006
28.6.: New CD released in Japan: Japa Rico – Rico Rodriguez Meets Japan (Sony AICL1753 /Japan)
1.7.: Bluebeat Lounge Summer Fest feat. Rico Rodriguez @ the Knitting Factory, Los Angeles; "main attracktion for the night will be legendary Jamaican trombonist Rico Rodriguez backed by Chris Murray Combo & Friends" (Source: Punknews.org)
27./28.7.: Rico plays at Fuji Rock Festival in Japan: He joins Madness on 27.7.2006 On 23.8. Seki sends an email to Europe and writes: "Photo from Fuji Rock Festival . MADNESS with RICO!!" Here are the pictures by Maki at Fujirockers.org
---
Total Madness. Gaz Mayall introduced the band as the greatest ska band in the world, and few could say he was wrong as Madness rocked out an hour-long set with two encores They began their set with the hit 'One Step Beyond' proceeding with a number of crowd pleasers, all the while interjecting interesting bits of banter. It was a natty performance as Madness's frontmen were in matching suits and patent leather shoes, neckties pulled tightly around their neck. A highly of the show was saxophonist Rico Rodriguez who has made multiple appearances as a session musician throughout the 70's to the present day. After performing their allotted set, the crowd cheered them back as Gaz Mayall returned, leading the chant M-A-D-N-E-S-S. And the band obliged, playing a rare song not performed in 25 years, apparently once commissioned for a local automotive company. Reported by sean (2006.07.29 / 12:33) at Fujirockexpress.com
Absolute pick of FujiRock 06 = Madness. These guys are long time idols of mine. I grew up listening to their terrific tunes after I bought a pirate copy opf one of their albums from a dodgy guy at my high school. This cassette hailed from Thailand, and the lyrics printed bore little to no resemblance to the actual thing. These guys showed Japan this weekend that they haven't lost a thing in their near 20 year hiatus. Report by Dom, 30.7.2006 at Fujirockers.com
---
17.8.: The Rude Pressures feat. Rico; Kid of the floating world writes on 17.8.: Best moment of the weekend: Sunday morning, 03.03. The Rude Pressures featuring Rico singing Louis Armstrong's What a Wonderful World (with mood-melting trombone solo):" at Wordpress.com; pictures by Maki at Fujirockers.org
August: recording session at Fizzé's studio in Weite /CH for his 4th part of Fizzé's Peeni Waali project called Sha; see Rico at Weite /CH on Mensch3000.ch
4.9.: Release of Pama International: Trojan Sessions (CD: Trojan TJCCD 325 /UK)
September: release of Rico: Wareika Vibes (CD: Jamdown Prod. JAMUKCD008); Tracklist: : 1. The Count / 2. Sounds And Power / 3. Stranger Than Strange / 4. These Things Are True / 5. Another Longshot / 6. Victims Of Trust / 7. Clean Up / 8. Redeemer / 9. Wareika Vibes / 10. Romeo / 11. Rastaman Oasis
Rico started recording with Soulfood International: see Rootz.net Interview with Norbert Boll (in German language).
2007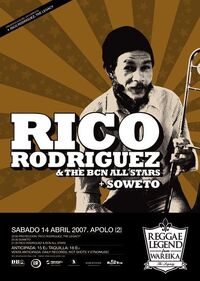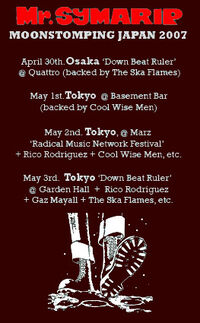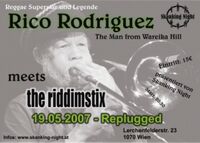 6.1.: In concert w/ Nine, Grabenhalle, St. Gallen /CH
9.1.: In concert at The Atomic Café, München /Germany; Norbert Jo. Bo. has published excellent pictures of this event at Fotocommunity ; the best picture is here: Fotocommunity; a short review in German at Rootz.net
14.1.: In concert at Kfz, Marburg /Germany (3rd time live at KFZ Bühne)
30.3.: Life w/ Soulfood International, Safari Palazo, Chur /CH
31.3.: Life w/ Soulfood International, Festival Roots dans la vallée, Sallanches /France
March: Rico's new single "A Message To You, Rudy" appears on the market via Gover.
14.4.: w/The BCN All Stars, Barcelona /ES
15.4.: y sus Famosos, Madrid /ES
---
Both shows in Spain start with a documentary called "Rico Rodriguez - The Legacy" The trailer can be seen at Liquidator Music or at youtube.com
---
2.5.: In concert at Radical Music Network Festival, Tokjo /Japan
19.5.: w/Riddimsticks at Replugged in Vienna; see: Skanking Night.at
25.5.: at Bikini Test, La-Chaux-Des-Fonds /CH
22.6.: at Jamaican Reggae Festival, Höchstenbach /DE; see: Jamaican Reggae Festival
25.6.: at Feuerwerks Open Air, Mainz /DE; see: Sommer In der Reduit.de
---
Ska- und Reggaefans als auch Jamaica-Jazzliebhaber sollten den Auftritt von Rico Rodriguez aka "The Man from Wareika" nicht verpassen, denn Rodriguez wird im Rahmen der aktuellen Tourneen seinen Abschied von der Bühne feiern. Nach zahllosen Veröffentlichungen und ebenso ungezählten Konzerten in allen Kontinenten wird der nunmehr 72-jährige die Studioarbeit den Tourneestrapazen der letzten 5 Jahrzehnte vorziehen. (From [Sommer In der Reduit.de, 29.5.2007)
---