Translation : Ancient house in Mechelen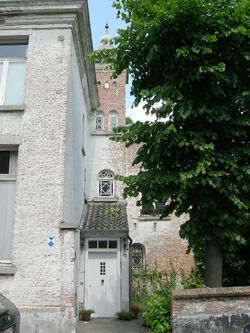 De "Kluis op de Hei" in Mechelen is een eclectisch gebouw en een beschermd monument, [1] gelegen aan de Caputsteenstraat.
Geschiedenis
De "Kluis op de Hei" [2] - gelegen aan de Caputeenstraat 73 - diende, van 1254 tot 1303, als verblijfplaats voor de Onze-Lieve-Vrouwebroeders, beter gekend onder de benaming "Geschoeide Karmelieten".
Op het einde 18de eeuw verbleven in het pand oud-seminaristen, zodat het complex, voor een tijdje, de naam "Papenhofje" kreeg (Het eigenlijke Papenhofje lag aan de Mechelse Grote Nieuwendijk, wat nu een stadsparkje is).
Op deze plaats bevond zich, in de 18de eeuw, een buitenhuis (vermoedelijk met oude fundamenten), doch in 1865 werd het complex, dat bestond uit een U-vorm, gesplitst.
Het is in 1866 dat het rechterdeel werd uitgebreid naar de straatkant toe (een ontwerp van Mechelse architect Ch. Drossaert) en, tot op de dag van vandaag, als woonhuis fungeert. Het linkerdeel werd, in 1881, gesloopt en vervangen door een fabrieksgebouw. Het vierkante torengebouw bleef echter fungeren als scharnier tussen beide elementen.
Een deel van "De Kluis" werd echter afgebroken voor de aanleg van de Mechelse Dalenborchstraat.
De Mechelse architect Jan Lauwers paste het interieur aan, doch de 18de-en 19de-eeuwse salons bleven bewaard.
In 1997 werd het complex beschermd als monument [3] en werd het bewoond door de gewezen Mechelse stadssecretaris Louis Rijckeboer.
Beeldbank
Externe links
Voetnoten
Ad blocker interference detected!
Wikia is a free-to-use site that makes money from advertising. We have a modified experience for viewers using ad blockers

Wikia is not accessible if you've made further modifications. Remove the custom ad blocker rule(s) and the page will load as expected.