Ad blocker interference detected!
Wikia is a free-to-use site that makes money from advertising. We have a modified experience for viewers using ad blockers

Wikia is not accessible if you've made further modifications. Remove the custom ad blocker rule(s) and the page will load as expected.
Translation : A protestant family in Mechelen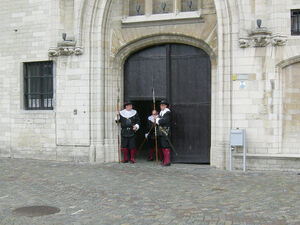 De familie Thijs – of Thys – was een familie die, in de 16e eeuw, in Mechelen woonde. De familie bestond uit een zestal leden, waaronder vader Andreas, moeder Catherina, hun zonen Jan, Frans en Nikolaas en een dochter (naam onbekend). De familie Thijs verdiende hun kost in de verversambacht.
Geschiedenis
Het waren vader Andreas en zijn zonen die, omwille van hun beroep, vanaf 1520 de grenzen van het Heilig Roomse Rijk overstaken. In de Hanzestad Lübeck kwamen ze onder de invloed van het opkomende Lutheranisme. Hierdoor begonnen ze de Bijbel meer grondig te lezen wat leidde dat zij er amper konden over zwijgen in de Mechelse Katelijneparochie. Hun beweringen kwamen erop neer dat "...de reyne leer Christi also met mensengebode verdonckerd sonde syn in de stadt Mechelen..." Ook moeder en dochter Thijs werden overtuigd van de onjuistheid van de Katholieke leerstellingen.
Dit alles bleef niet zonder gevolg : de familie Thijs werd beschuldigd – o.a. door hun parochiegenoten – van Lutherse ketterijen met als gevolgd dat de oudste zoon Jan, in 1538, tot de brandstapel werd veroordeeld.
Hierdoor bond de familie in, doch zeventien jaar later (in 1555) voelde de familie zich opnieuw onveilig. Ze vreesden opnieuw rechtsvervolging waardoor de mannelijke leden van het gezin op de vlucht sloegen, richting Engeland. Hier hertrouwde Andreas Thijs en verbleef hij er tot aan zijn dood.
Frans en Nikolaas Thijs keerden in datzelfde jaar terug wat uitmondde dat de rest van het gezin werd opgepakt en in twee verschillende gevangenissen werden gegooid. Frans en Nikolaas belandden in de Lakenhalle op de Mechelse Grote Markt, waar ze van elkaar werden gescheiden, geketend en in een kerker gegooid. Tijdens hun proces werden beide broers afzonderlijk ondervraagd. Moeder en dochter herriepen hun opvattingen in de hoop op een lichtere straf en het vrijkomen van hun mannelijke gezinsleden.
Het proces, dat een tweeëneenhalve maand duurde, hielden lange cynische ondervragingen in, folteringen op de pijnbank (uitrekking van de ledematen) en geïsoleerde opsluiting. Dit alles met het doel om hen terug op het Katholieke pad te brengen. Frans Thijs' antwoorden aan zijn beulen waren reformatorisch ( "...de Rooms-Katholieke Kerk is niet de heilige Christelijke kerk, wat al blijkt uit de vele misstanden en misbruiken..." ), doch Nikolaas bleef zwijgen of maakte de inquisiteurs belachelijk ( "...Wat comt ghy tot my om uwe beuselinghen te vercoopen ? Ghy archlistige Hypocryte ! Gaet van my, laet my met vreden : want ic sal by der waerheyt blijven ende uwe fabelen ende logenen niet achten. Oft evenwel mijn leven costet..." ). Dit alles leidde dat beide broers werden overgedragen aan het wereldlijke gezag.
Tijdens hun verschijning voor de rechtbank verloochenden de beide broers hun geloof niet, waardoor de broers in de Kerkelijk ban werden gedaan en de schout hun burgerrechten ontnam. Na enkele maanden cel kregen de broers op 22 december 1555 te horen dat ze de volgende dag de brandstapel moeten beklimmen. Een mogelijkheid tot het zien van een biechtvader weigerden ze.
Een aanvraag om afscheid te nemen van hun moeder en zus werd Frans en Nikolaas geweigerd op weg naar de brandstapel op de Mechelse Grote Markt. Een houten bol, die in hun mond werd gestopt om hen te doen zwijgen, werd door de broers opnieuw uitgespuwd zodat ze elkaar moed konden inspreken tijdens hun doodstrijd. Na hun dood werd hun as in de Dijle gesmeten.
Boeken
Een aantal werken behandelden deze Mechelse geschiedenis :
"Geschiedenis van de Hervorming in de Nederlanden" – C.G. Montijn
"Duitse vlugschriften van de tijd over het proces en de terechtstelling van de protestanten Frans en Nikolaas Thys te Mechelen (1555)" – Robert Foncke – 1937
"Vilvoorde - Internationaal repressiecentrum en brandpunt van het zestiende-eeuws protestantisme" – A.L.E. Verheyden – 1972
Externe links