Translation : Ancient coins history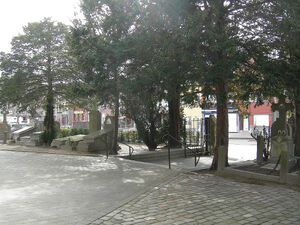 Walem, bij Mechelen, was ooit een Heerlijkheid. Door dit privilege had Walem het recht voor het slagen van een eigen munt. [1]
Geschiedenis
Grondgebied
De Berthouders, Heren van Mechelen, hadden - in de Middeleeuwen - Walem in eigendom, doch dit geslacht stierf uit met de geboorte van Margareta van Wesemael, dochter van Hendrik Berthout. Margareta van Wesenmael bracht het grondgebied in de familie van haar echtgenoot Dirk van Hoorn, heer van Perwez.
Uit dit huwelijk werd een dochter, Maria, geboren die huwde met Jan Stuart, graaf van Marr en Yerniac. Wanneer Maria weduwe werd, verpandde ze Walem aan Anton van Bourgondië, hertog van Brabant, wiens zoon Jan IV [2] het grondgebied overdroeg aan zijn broer Philips, graaf van Saint-Pol.
Philips beheerde het grondgebied tot aan zijn dood doch daarna kwam Walem terug onder de voogdij van de gravin van Marr. Uiteindelijk zou het grondgebied, voor lange tijd, toebehoren aan het geslacht van De Mérode.
In de 13e eeuw was Walem reeds erkend als Vryheit of Gemeente met een eigen schependom en in de 15e eeuw woonde er meer dan tweeduizend inwoners. In 1458 (of 1463) werd Walem geteisterd door een verschrikkelijke brand die 200 huizen verwoestte en in 1543 werd Walem grotendeels geplunderd en verwoest door de Gelderse veldheer Maarten van Rossum bij diens inval in het hertogdom Brabant.
Munt
Omdat Walem een dorp van betekenis was werd er, gedurende een periode van een tweetal jaar, een eigen munt geslagen. Het was onder het ruwaertschap van Philips van Saint-Pol dat er, tijdens de jaren 1421 en 1422, een eigen munt geslagen werd, wat bestemd was om in Brabant in omloop gebracht te worden.
De munt werd echter niet aanvaard waardoor "de munthe ghesloten wert" (1423).
Literatuur
De munt van Waelhem werd niet opgenomen in het werk van professor Vander Chijs over de munten van Brabant, maar werd wel beschreven en afgebeeld in de "Revue de la Numismatique Belge". Het verhaal dook ook op in :
"De munt te Waelhem in 1421" – C. Serrure – 1855 [3]
"Gold coins of the world" – Arthur L. Friedberg en Ira S. Friedberg [4]
Externe links
Voetnoten
Ad blocker interference detected!
Wikia is a free-to-use site that makes money from advertising. We have a modified experience for viewers using ad blockers

Wikia is not accessible if you've made further modifications. Remove the custom ad blocker rule(s) and the page will load as expected.